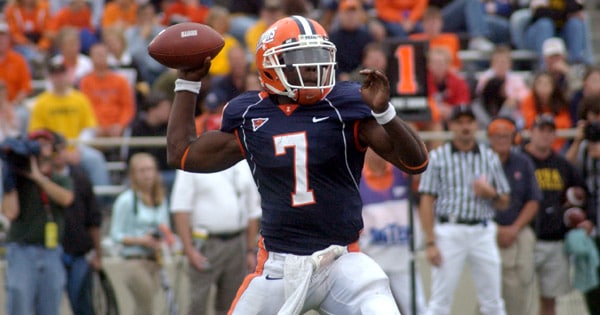 I had the pleasure of talking to former University of Illinois and current Chicago Slaughter QB Isiah "Juice" Williams. Juice Williams was the quarterback at Illinois for four seasons.
Now he is the QB of the Chicago Slaughter, which is an arena football team, part of the Indoor Football League. I asked Juice a few questions about his time at Illinois and his current state with the Slaughter.
Pat: Going into the 2007 college football season, what were the expectations of you and your Illini teammates and coaches?
Juice: Overall, we wanted to just improve on the previous year's records. In 2006, we finished 2-10 but there were 6 games in which we lost in the 4th quarter. Improving the team by molding current talent and signing elite talent was the main idea. We'd figure we would win a few of those close games now and become bowl eligible. No way did we actually think we'd be in the Rose Bowl that season.
Pat: At what point during the 2007 season did you and your team realize that you had something special happening?
Juice: After we beat #13 Penn State at home, guys began to open their eyes and started to jump on the team bandwagon.  After we beat #5 Wisconsin the following week, the entire roster was sold and truly believed we were a special team and we could play with anyone in the country.
Pat: Besides the Ohio State game, which game did you feel was the most important to the great success that season?
Juice: After we lost two straight games to Iowa and Michigan, the team's momentum began to fade away. It was tough for us to execute our game plans because we didn't the "wheels rolling". But we bounced back against Ball State in a hard fought homecoming game. In my eyes, the win over Ball State propelled the team into a special group. That win sparked a blowout win against Minnesota the following week.
Pat: How confident were you going into the Ohio State game, and what was the general feeling afterwards?
Juice: Personally, I never enjoyed preparing for Ohio State because their defense was sooo unpredictable and balanced. The week leading into the Horseshoe battle, I decided to do some overtime film study throughout the week and focus on possible defensive patterns. I was able to figure out a few of their strategies and prepared my mind all week. I was super confident in the game plan because I had an idea of what to expect in certain situations. I can remember jumping up and down on my roommate's bed before the game yelling, "WE GONNA BEAT O-STATE, WE GONNA BEAT O-STATE". After we upset the Buckeyes, I was ecstatic!!! "We just #1 Ohio State, in their backyard, on National TV, during primetime, as the underdog, AND I was the player of the game." All of this made it so special and I was only a 19 year old sophomore. When we arrived back in Champaign, I really understood what we've just accomplished. ESPN played highlights ALL NIGHTS and I made Sportscenter's Top Play List. Not only did I make the list, I WAS NUMBER ONE for my legendary performance that night!!! Just a great time to be an Illini…
Pat: What does it mean to you to be the all time offensive leader in Illinois football history?
Juice: Being the all time offensive leader is awesome, honestly. Many great players have played for the Fighting Illini over the years and I was able to surpass all those guys in total yardage, that's a huge milestone for me.
Pat: Only 4 other players in the history of the Big Ten Conference recorded more total yards then you did while playing for the Illini. What does it mean to you to be up there with so many other great players that have played in this conference?
Juice: This accomplishment is even bigger than setting the school record. There are MANY Heisman Trophy winners, college hall of famers, pro hall of famers, legendary players, etc. that has played in the Big Ten Conference and to be ahead of everyone except four players in UNBELIEVABLE…
Pat: What do you feel was your greatest accomplishment while playing for the Illini?
Juice: Besides all the upset wins over ranked opponents and leading the team to the Rose Bowl Game, I would say leading  the Big Ten in Passing yds, Pass TDS, Pass Efficiency, Completions, and TD passes over 60 yds as a Junior was the greatest. As a freshman, I was dead last in all those categories but I was able to bounce back and become a polished passer with the help of my team and coaches.
Pat: You now play football for the Indoor Football League team, Chicago Slaughter. What is the been the biggest transition from the type of football you have played all of your life, to the Arena game?
Juice: The biggest transition from outdoor football to arena football is the size of the field. Because the field is smaller, the game speed is much faster and reads have to be made much sooner. Those walls are dangerous as well. I was flipped over a wall last season and it wasn't the greatest feeling. However, it's a great league and I really enjoyed playing for the Chicago Slaughter.
We want to thank Juice Williams very much for taking the time to let us interview him. Be sure to check out some Chicago Slaughter games!
For More Great Chicago Sports Content
Follow us on Twitter at @chicitysports23 for more great content. We appreciate you taking time to read our articles. To interact more with our community and keep up to date on the latest in Chicago sports news, JOIN OUR FREE FACEBOOK GROUP by CLICKING HERE