Check out this CCS interview with Tab Bamford who runs the Chicago Blackhawks blog CommittedIndians.Com. Tab is known through out the Chicago sports fan community as he writes for many other sites besides his own. You can also find him on twitter, so be sure to follow him to catch updates, articles, etc. Most blogs just spew out regurgitated recaps as if you're reading a box score. CommittedIndians is a site to check out if you want TRUE analysis on your Blackhawks.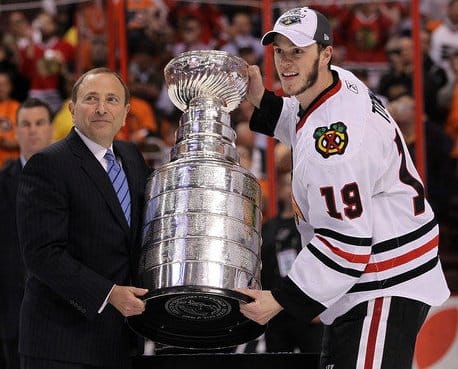 Can you explain to us what exactly your website encompasses, what is your goal?
Tab: CommittedIndians.com tries to be a site Blackhawks fans can visit for a unique, informed perspective on anything/everything that's going on with the team. My goal is to utilize social media with the site to be an entertaining and informative source for Blackhawks news and information.
When did you start the site up?
Tab: I had been writing for a couple other sites but became tired of the limitations their platforms put on content and format, and was frustrated by editors. So I opted to do my own thing.
What would you say the pros are of your site? The cons?
Tab: The pros of my site are the interaction with Facebook and Twitter, as well as including prospect and division information as well. The cons used to be format related, but we updated the design early this summer to better allow traffic around the site.
Your site has been featured in many news outlets on the internet, which feature is most important to you?
Tab: As a hockey site, being featured on NHL.com is a great honor. We look forward to new opportunities this season with our new affiliation with TheFourthPeriod.com as well.
Your site is regarded by many as the #1 Blackhawks blog on the net, do you agree with this?
Tab: I'm honored if that's the case. It's a labor of love, so if our site is held in high regard it's a thrill.
Did you see activity/traffic take a huge leap during the Blackhawks road to the Stanley Cup?
Tab: Our traffic has grown steadily all year, and actually saw a big spike during the Olympics in February. The increase we enjoyed from the Finals hasn't been a spike because we have maintained/increased readership every week since the middle of April. July was our biggest month, and. August has started strong as well.
Do you have any important or big upcoming plans for the site in the near future?
Tab: We're going to do more to include youngsters in the organization this year, and will hopefully continue to provide more great content covering the Blackhawks as well.
We've discussed the site, tell us about you, hobbies, etc.
Tab: I'm married and a father of one (3 year old boy) and have #2 on the way. I played football in college and love pro & college football as well. I'm a Blackhawks season ticket holder. My wife teaches high school Special Ed and I volunteer with her as Special Olympics coaches.
Any users, readers you want to shout out from your site?
Tab: Don't want to single anyone out because we're all Hawks fans.
We want to thank Tab for taking the time to answer these questions, be sure to check his site out located at www.committedindians.com
For More Great Chicago Sports Content
Follow us on Twitter at @chicitysports23 for more great content. We appreciate you taking time to read our articles. To interact more with our community and keep up to date on the latest in Chicago sports news, JOIN OUR FREE FACEBOOK GROUP by CLICKING HERE