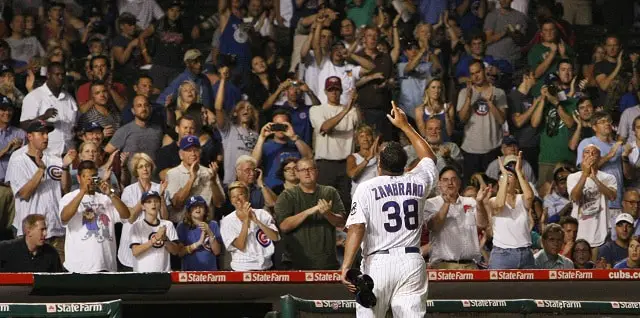 Whatever your thoughts were on the Carlos Zambrano situation and the decision to send him off to anger management therapy, you can't deny that something has changed with the Cubs veteran pitcher.
Last night Zambrano helped the Cubs complete a sweep of the St. Louis Cardinals, ending the series on a high note, and essentially ending the Cardinals season. Zambrano went six innings, allowed two runs, just one earned and only four hits. He is 6-0 in his last seven starts with an ERA of 1.37.
Since his return to the rotation Zambrano has seen his ERA drop from 5.46 to 3.75.
Last night Zambrano did something small but intriguing that gives me some hope that he is maturing into the pitcher that Cubs fans have always hoped he could be.
According to an AP article:
"Zambrano was struggling to get his fastball up to 90 mph before the game, so he decided to improvise. He told pitching coach Larry Rothschild he planned to use his breaking stuff more. 'When you see the gun and your fastball is only 88 or 89 you have to pitch with your other pitches,' Zambrano said."
I am not naive enough to believe that Carlos has never made adjustments to his game before, but last night he saw something that wasn't going to work and he made a nice change. With his fastball not there, he went to his breaking stuff and pitched a very effective game.
Over his previous four games Zambrano had struck out an average of eight men per. Last night he fanned just three while inducing nine ground ball outs.
I'm intrigued with what Carlos has done since his return, but it is a small sample, and we have seen these flashes before only to be followed with some kind of implosion. Hopefully the maturation process is taking effect because the Cubs will need more of this Carlos if they hope to rebound from a somewhat disappointing 2010.
For More Great Chicago Sports Content
Follow us on Twitter at @chicitysports23 for more great content. We appreciate you taking time to read our articles. To interact more with our community and keep up to date on the latest in Chicago sports news, JOIN OUR FREE FACEBOOK GROUP by CLICKING HERE