Jordan Love has a steep learning curve this offseason in his fourth year in the NFL. The Green Bay Packers have given him the role as the full-time starting quarterback after trading long-time signal caller Aaron Rodgers to the New York Jets this offseason. Love isn't anywhere near Rodgers' level yet, and it should give Chicago Bears fans some hope before their Week 1 matchup against the Packers.
Jordan Love had a slow start
The Packers held their second voluntary practice of OTAs Tuesday. The practice was the first that was open to the media. Per multiple reports, Love struggled to throw the ball Tuesday. According to Rob Demovsky with ESPN, Love had a "slow start." He went just 6 of 16 in passing attempts, with defenders getting their hands on multiple throws. Love performed better when they inched him up into the red zone.
After a slow start, Jordan Love was effective in the short red zone (from the 10 and in) with 3 TDs. Overall in the first open OTA (and second of the week), he was 6-for-16. Had three tipped or batted down, one dropped and one nearly picked off.

We'll hear from him soon.

— Rob Demovsky (@RobDemovsky) May 23, 2023
Ryan Wood with USA Today and Matt Schneidman with The Athletic gave a few explicit examples of Love missing badly on throws during the practice.
Jordan Love badly missed Samori Toure in the left corner of the end zone. Toure was open after breaking his route to the sideline vs. Keisean Nixon, but Love's pass sailed wide out of bounds.

— Ryan Wood (@ByRyanWood) May 23, 2023
Jordan Love's first deep ball of the day is incomplete. Tried to hit Christian Watson downfield in triple coverage. Kiondre Thomas knocked away the pass.

— Ryan Wood (@ByRyanWood) May 23, 2023
Love's first bomb is to Christian Watson down the middle. A little wobbly and underthrown, falls incomplete with three defenders in the vicinity.

— Matt Schneidman (@mattschneidman) May 23, 2023
The Green Bay Packers aren't coddling Love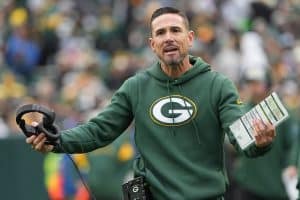 According to Zachary Jacobson with Packer Report, head coach Matt LaFleur said after the practice that Love did some things well but needed to "clean" things up. The head coach, that has been telling the locker room and fans to temper their expectations for a quarterback the front office wouldn't put their faith in with a fifth-year option, said the team wouldn't be "coddling" Love during practice:
"I think you gotta be mindful and aware of where you are but at the same time, you can put them in those situations — it's not like he's a true rookie. He's seen a decent amount, especially being able to get the majority of the snaps this time of year the last couple of years," said LaFleur.

"We're not necessarily coddling him in any sense of the word. We're installing our plays and whatever the defense presents, I mean, he's gotta react. If it gets out of had one way or another then you can adjust, but I think he's done a pretty good job up to this point."
Chicago Bears fans have seen this show recently
Many Bears fans are familiar with these reports in practice. Quarterback Justin Fields and the Bears' offense struggled in OTAs last offseason when they installed the scheme in Luke Getsy's first year as the offensive coordinator. It took months into the regular season before they saw progress with their second-year quarterback. Right now, it looks like Love is well behind his quarterback class. And yes, Packers fans are worried about it.
For More Chicago Sports:
Follow me on Twitter at @JordanSig, and follow us @ChiCitySports23. You can also reach out to Jordan Sigler via email at jordanmsigler@gmail.com. To read more of our articles and keep up to date on the latest in ALL of Chicago sports, click here! Chicago Bears, Chicago Bulls, Chicago Cubs, Chicago White Sox, Chicago Blackhawks.
For More Great Chicago Sports Content
Follow us on Twitter at @chicitysports23 for more great content. We appreciate you taking time to read our articles. To interact more with our community and keep up to date on the latest in Chicago sports news, JOIN OUR FREE FACEBOOK GROUP by CLICKING HERE