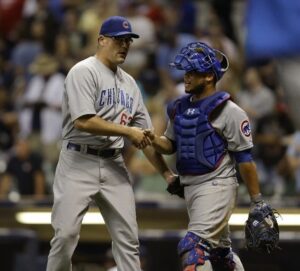 (Photo by Mike McGinnis/Getty Images)
The Cubs looked to get back to winning ways at Miller Park as they face their division rival Milwaukee Brewers. The Cubs sent out Scott Feldman, and the Brewers countered with Yovani Gallardo.
The Cubs drew first blood in the second.  Wellington Castillo led off the inning with a single and then scored all the way from first on a Darwin Barney double to give the Cubs a 1-0 lead. Later that inning Luis Valbuena singled in Barney to give the Cubs a 2-0 lead.
The Brewers got one back in the bottom half of the inning on a Aramis Ramirez solo shot. 2-1 Cubs. The Cubs regained their lead in the top of the third on a Ryan Sweeny solo shot. 3-1 Cubs. The Brewers cut it back to one on a Nori Aoki Double. 3-2 Cubs.
The Cubs got their and fifth Runs on a Anthony Rizzo two run single in the top of the fourth. Both teams could have scored more runs as evident by their hits with RISP. The Cubs went 2-13 and the Brewers went 2-8. Both starters worked out of jams the whole night.
The Brewers cut the lead to two on a Ramirez single in the bottom of the sixth. 5-3 Cubs. It stayed five three until the bottom of the ninth when Juan Francisco hot a solo shot to cut the lead to one. With Kevin Gregg on the mound trying to keep his saves record perfect Rickie Weeks doubled and then was sacrificed to third with only one out. Yunieskey Betancourt hit into a fielders choice which resulted in the gunning down of Rickie Weeks at home plate. That was the last  chance for the Brewers ,and Kevin Gregg became 12-12 in save opportunity's as the Cubs hung on 5-4.
First pitch tomorrow is set for 1:10 central time. The pitching match up will be Matt Garza (2-1, 4.25 ERA) Vs Wily Peralta (5-8, 5.59 ERA).
For More Great Chicago Sports Content
Follow us on Twitter at @chicitysports23 for more great content. We appreciate you taking time to read our articles. To interact more with our community and keep up to date on the latest in Chicago sports news, JOIN OUR FREE FACEBOOK GROUP by CLICKING HERE