Another big name just dropped as a potential option for the Chicago Bulls at point guard in free agency. The Bulls are expected to be without Lonzo Ball for most of next year if he ever returns. The team will need to explore other long-term options in free agency or via trade to fill the gap.
The Bulls' front office intends to keep this roster competitive next season. But they are also looking to juggle Nikola Vucevic's re-sign as they figure a way to use their leverage with stars DeMar DeRozan and Zach LaVine to fill out roles that kept them from the playoffs this season.
The Chicago Bulls could sign FA Fred VanVleet
According to Adrian Wojnarowski with ESPN, Fred VanVleet has decided to head to free agency this offseason and decline his option to stay with Toronto Raptors. There are several contenders that have shown interest in VanVleet.
"In the first major domino of free agency, Toronto Raptors All-Star guard Fred VanVleet has declined his $22.8 million player option and will become an unrestricted free agent in July, sources told ESPN on Monday.

VanVleet hasn't ruled out negotiating a new deal and a Raptors return, sources said, but he becomes one of the most prominent guards in the marketplace and an immediate target of teams with cap space and several contenders who'd welcome discussions on sign-and-trade scenarios with Toronto, sources said."
Would the Chicago Bulls sign Fred VanVleet?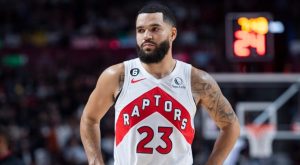 The Bulls must explore VanVleet as an option in free agency to replace Ball. The Illinois native is the type of player the Bulls need if they want to make a run in the playoffs. VanVleet is an All-Star point guard who was instrumental in helping the Raptors win the NBA Finals over the Golden State Warriors in 2019.
The 29-year-old is the perfect age to join a Bulls team wanting to make a run next season. The issue with signing him, of course, is his salary requirements. VanVleet wants somewhere in the range of $30-35 million a year to play for his next team. The Bulls would have to move their roster around to sign him, or they would face the luxury tax, which the team isn't known for being cool with. But if this front office is serious about winning with their core, they might have to pay for some luxuries like VanVleet.
For More Chicago Sports:
Follow me on Twitter at @JordanSig, and follow us @ChiCitySports23. You can also reach out to Jordan Sigler via email at jordanmsigler@gmail.com. To read more of our articles and keep up to date on the latest in ALL of Chicago sports, click here! Chicago Bears, Chicago Bulls, Chicago Cubs, Chicago White Sox, Chicago Blackhawks.
For More Great Chicago Sports Content
Follow us on Twitter at @chicitysports23 for more great content. We appreciate you taking time to read our articles. To interact more with our community and keep up to date on the latest in Chicago sports news, JOIN OUR FREE FACEBOOK GROUP by CLICKING HERE