Chicago Blackhawks general manager Kyle Davidson made a major announcement regarding the status of the team captain for the 2023-24 season. Jonathan Toews served as the Blackhawks team captain for the previous 14 seasons.
Toews is now a free agent, and the Blackhawks have no plans to sign him this season. Per the NHL.com, defenseman Seth Jones said recently he wished to be the team captain this season:
"I've always wanted to be a captain," the defenseman said at the NHL North American Player Media Tour on Tuesday. "I've learned from some great leaders — Shea Weber, Nick Foligno, Jonathan Toews — I mean, I played with some of the greatest captains that we've seen. It would be pretty special…

"I understand where the organization is at," Jones said. "I'm focused on going and just playing my game and leading whether I have a C, an A or nothing on my jersey. I don't think that should change."
Jones is not getting that honor this season.
The Chicago Blackhawks will have no official captain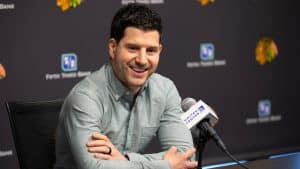 According to Charlie Roumeliotis with NBC Sports, Davidson said there would be no official captain this season. The Blackhawks intend to have a few alternates from a pool made up of their "leadership" core.
#Blackhawks GM Kyle Davidson said there will be no captain for the 2023-24 season. It will be a few alternates that make up the leadership group. pic.twitter.com/PCybWzDNfM

— Charlie Roumeliotis (@CRoumeliotis) September 19, 2023
Per Roumeliotis, Davidson said it's hard to ask someone on the team to follow in Toews' footsteps:
"The only plan right now is to sort of just let it breathe for a year," Davidson said. "We came off such a successful tenure with Jonathan that, a little bit of it is just out of respect for Jonathan, to not fill that spot right away.

"And the other part is not to put that pressure on someone else when you're coming out of a period of such, call it greatness, right? And you want the next person to be in a position to succeed. And there's no requirement to have a captain, and so we just felt that it was best to leave that, push that decision a little bit, we'll let the chips fall where they may.

"Over the next year, we'll see who emerges, see what the best option is, and decide next year if it's appropriate to name someone, we'll just take that as it comes."
Connor Bedard predicted to be the next full-time team captain
Roumeliotis predicted rookie Connor Bedard would be the next team captain for the Blackhawks. Giving Bedard the captain job as a rookie feels premature.
Towes didn't earn the captain designation in his first year, either. He was taken 3rd overall in the 2006 draft. Toews was first named captain for the 2008-09 season.
For More Chicago Sports:
Follow me on Twitter at @JordanSig, and follow us @ChiCitySports23. You can also reach out to Jordan Sigler via email at jordanmsigler@gmail.com. To read more of our articles and keep up to date on the latest in ALL of Chicago sports, click here! Chicago Bears, Chicago Bulls, Chicago Cubs, Chicago White Sox, Chicago Blackhawks.
For More Great Chicago Sports Content
Follow us on Twitter at @chicitysports23 for more great content. We appreciate you taking time to read our articles. To interact more with our community and keep up to date on the latest in Chicago sports news, JOIN OUR FREE FACEBOOK GROUP by CLICKING HERE