Blackhawks GM Kyle Davidson says development is the focus for the 2023-2024 campaign
Kyle Davidson only wants one thing for the Blackhawks this season, development.
The Hawks have a major number of new young prospects, some of whom will be spending time in Rockford this season. Others will take to the ice in the United Center this October.
The Chicago GM spoke to the media on Tuesday morning and talked about the team's goals and hopes for this upcoming NHL season.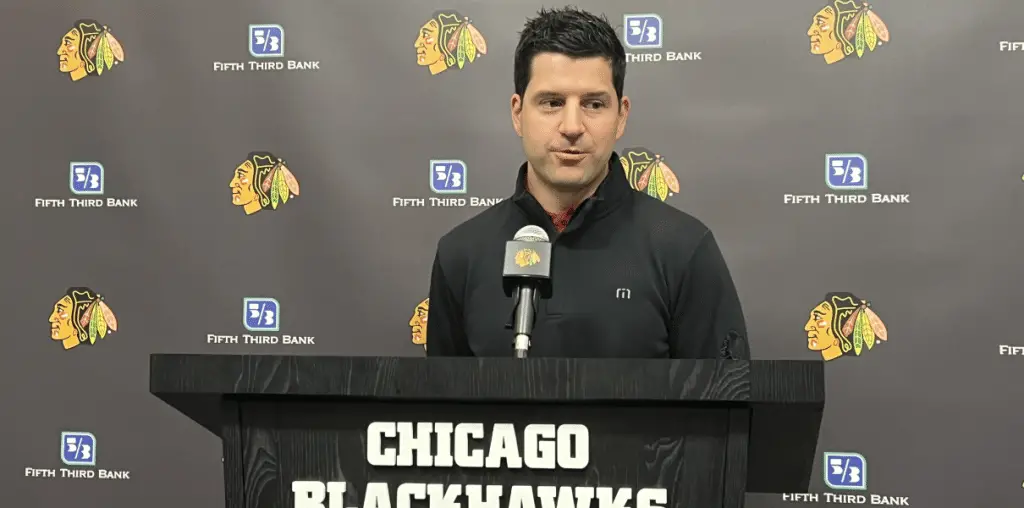 "We just want to see players improve," Davidson said, "take that next step and show us that they can be part of this in a significant way moving forward."
Continuing to see development in players like Lucas Reichel is something to watch for this season. The 21-year-old appeared in 23 games for the Blackhawks last season. Chicago was in no rush to make Reichel a full-time player last year. But this year is different.
Kyle Davidson made it clear that Reichel will be a staple in the team this season.
"Lukas Reichel did everything we asked of him last year in terms of the little things we asked him to improve on, to the point at the end of the year — and as we walk into training camp this year — he's an NHL ready player," Davidson said. "Those are the steps you want your young players to take."
Reichel, registered 15 points (seven goals, eight assists) in 23 appearances with the Blackhawks last season after recording only one point in 11 games the year prior. Last season it was clear he was getting better and better with each call up.
Reichel is just one example among a number of young players who look to develop or continue developing into long term Blackhawks.
Davidson had a message to send to the fans about the future of the franchise.
"There's also a lot to be excited about and we're going to filter in some very exciting young players this year that'll give fans an eye to the future," Davidson said.

"Again, this is a journey, but we're progressing along that journey right now and some of the young players that we'll see in training camp and that we'll see in the regular season this year will give an eye and a sneak peek to where we're going on that journey. So I think there's a lot to be excited about both at the NHL level and outside and we're making progress very positive progress."
A rebuild takes time and patience to pull off successfully. The Blackhawks have one of the brightest futures in the NHL. And Kyle from Chicago seems like the man who can harness that future.
For More Great Chicago Sports Content
Follow us on Twitter at @chicitysports23 for more great content. We appreciate you taking time to read our articles. To interact more with our community and keep up to date on the latest in Chicago sports news, JOIN OUR FREE FACEBOOK GROUP by CLICKING HERE