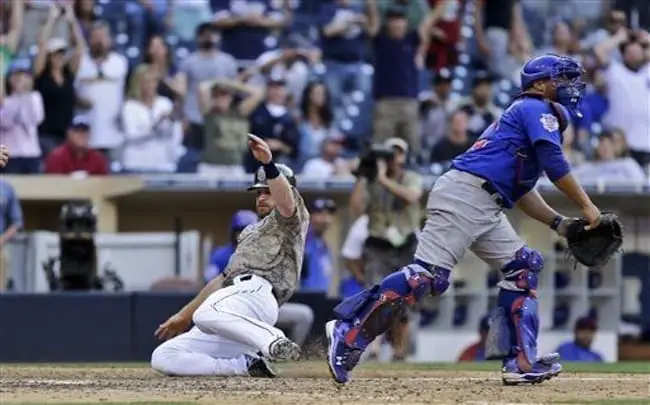 By all definitions, it was a duel. On the mound, the starters and bullpens went pitch for pitch. Behind the plate, well let's just fast forward 13 innings.
At the top of that wild inning facing Brad Boxberger, the Cubs squeezed out the first run of the game when first basemen Jesus Guzman chose to throw a ground ball home in an attempt to get Darnell McDonald. In the process, his throw hit Nate Schierholtz in the head right after he tripped out of the batter's box, causing all to be safe. Brian Bogusevic then earned the Cubs some insurance after scoring Starlin Castro on a sacrifice fly.
They would soon find out how valuable that run was when the Padres stepped up to bat. With Kevin Gregg pitching, Guzman doubled and advanced to third on a groundout that followed. He then crossed home plate after former Cub Ronny Cedeno tripled to center.
In order to tie it up again, all Alexi Amarista had to do was stand at the plate. Gregg threw a wild pitch and as it rolled behind home, Cedeno scored as Wellington Castillo's throw was not in time.
So the two teams went back at it and both had their chances. At the bottom of the 14th, Hector Rondon pitched out of a two-on, no-out mess and at the top of the 15th, Dale Thayer pitched out of a bases loaded jam.
However, at the bottom of that inning, Rondon wasn't able to hold the Padres any longer. He gave up a single to Logan Forsythe, a free base to Amarista and finally a game-winning line drive to Nick Hundley.
Despite the extra-inning angst and the loss taken by the Cubs, their pitching set them up to win from the beginning. Chris Rusin tossed 6 1/3 allowing just 3 hits. He handed it off to Villanueva to finish the inning and then to Pedro Strop, Blake Parker, Michael Bowden and James Russell who collectively gave up just 4 hits over 5 2/3 innings. Gregg earned the blown save and Rondon, the loss.
For San Diego, Andrew Cashner dealt seven innings of 2 hit ball before leaving it up to his reliable bullpen.
Chicago will be tired but must rest up to face the red-hot Los Angeles Dodgers tomorrow at Dodgers Stadium. Jake Arrieta (2-2, 5.75) and Zack Greinke (12-3, 2.91) will take the mound at 9:10pm.
For More Great Chicago Sports Content
Follow us on Twitter at @chicitysports23 for more great content. We appreciate you taking time to read our articles. To interact more with our community and keep up to date on the latest in Chicago sports news, JOIN OUR FREE FACEBOOK GROUP by CLICKING HERE