Ryan Poles had a lot to say about the Chicago Bears Monday
Chicago Bears general manager Ryan Poles held a revealing press conference with reporters at the Annual League Meeting on Monday afternoon. Poles answered reporters' questions on topics ranging from how the Carolina Panthers' trade for the number one pick went down to how running back David Montgomery ended up as a member of the Detroit Lions.
Some of of Poles' most important answers concerned how the Bears plan to construct their roster after ignoring elite talent at premium positions both last year and in this year's free agency. Here were some of the most notable answers Poles gave Monday.
Justin Fields inadvertently left a persistent Poles on delivered
According to Adam Hoge with CHGO Sports, Poles texted quarterback Justin Fields when the trade with the Panthers happened on the Friday afternoon. Fields didn't answer for a while and left Poles on delivered. So instead of waiting for his franchise quarterback to respond to his initial message, Poles texted the question, "are you sleeping?" When Fields eventually woke up, Fields responded that he was indeed excited about the Bears receiving D.J. Moore.
Ryan Poles texted Justin Fields when the DJ Moore trade happened.

"I didn't get a response for a while, so I said: 'Are you sleeping?'"

Turned out he was.

"He was taking a nap. He woke up and was pumped up."

— Adam Hoge (@AdamHoge) March 27, 2023
Ryan Poles welcomes George McCaskey's and Keven Warren's input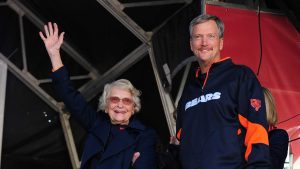 Poles was asked if the Bears' culture under him and head coach Matt Eberflus was strong enough to weather bringing in talented players with questionable personality traits. Poles gave a non-committal answer to that. However, according to Hoge, Poles said that prospects who carry risk, like defensive tackle Jalen Carter, are players he'd meet with chairman George McCaskey and new CEO/President Kevin Warren to discuss how that prospect would fit in with the Bears.
Poles would want McCaskey to "sign off and be on the same page," with him.
On Jalen Carter, and any prospects that come with risk, Poles said he will sit down with George McCaskey and Kevin Warren to discuss how those players fit in the organization. It's part of his philosophy.

"I do want my owner and president to sign off and be on the same page."

— Adam Hoge (@AdamHoge) March 27, 2023
Poles hinting at drafting an offensive lineman
The Bears didn't secure an elite three-technique or offensive tackle in free agency. Poles was asked if the Bears would take any of the available free-agent tackles in late March. According to Adam Jahns with The Athletic, Poles said talent and salaries often drop at this point in free agency. He plans to use the draft to gain help in the trenches.
Bears GM Ryan Poles was asked about available offensive tackles in free agency. He said that talent and salaries drop off now but that some are waiting out the draft to see their options.

"Right now, to improve our team, I think we got to look to the draft," he said.

— Adam Jahns (@adamjahns) March 27, 2023
Poles hinted he's looking at local talent in the draft
According to Kevin Fishbain with The Athletic, Poles indicated he wants local talent on the Bears. He thinks being a part of a local team can motivate a player to perform at a higher level. Last season, the Bears brought in local talent and offensive guard Michael Schofield III.
The Bears are looking at two local players in the first round of the NFL draft. Iowa defensive lineman Lukas Van Ness and Northwestern offensive tackle Peter Skoronski are Illinois natives.
Bears GM Ryan Poles on if there's something to having local players: "There's something to it for me. I think when you have pride of your local team that you grew up watching, you knew what this club meant to the city, and you saw some good times and some good players…(1/2)

— Kevin Fishbain (@kfishbain) March 27, 2023
Poles on Bears with Chicago ties continued: "… I think you're a little bit more motivated to perform at a high level and also lead because you've seen guys do it at a high level before you. So I always like that aspect. I think it just means a little bit more." (2/2)

— Kevin Fishbain (@kfishbain) March 27, 2023
Poles said David Montgomery turned down his offer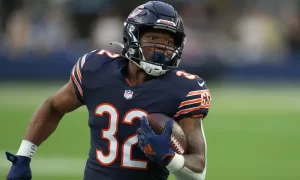 The Bears offered running back David Montgomery a contract to re-sign with the Bears this offseason. Poles did not disclose what the Bears offered Montgomery. According to Courtney Cronin with ESPN, Poles indicated Montgomery chose the Lions over the Bears.
A bit of surprise from the Bears when David Montgomery ended up turning down their offer to sign with Detroit. Poles: "I would just kind of sum it up by saying players do have a choice. I thought we communicated well, I thought we negotiated well. At the same time, you don't

— Courtney Cronin (@CourtneyRCronin) March 27, 2023
"always know what's going on in the background, but I thought we did a good job, we were transparent, we were organized and it just, it didn't happen."

— Courtney Cronin (@CourtneyRCronin) March 27, 2023
For More Great Chicago Sports Content
Follow us on Twitter at @chicitysports23 for more great content. We appreciate you taking time to read our articles. To interact more with our community and keep up to date on the latest in Chicago sports news, JOIN OUR FREE FACEBOOK GROUP by CLICKING HERE