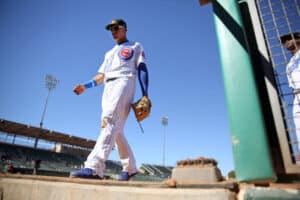 Javier Baez has been on an absolute tear this spring training for the Cubs. His quick bat along with extreme power has made Baez one of the top prospects in baseball. The Cubs farm system has gotten a lot better under Theo Epstein, but the one position they are lacking that ideal  player at is third base. Even though the Cubs do have tons of depth at third base in their farm sytem with guys like Josh Vitters, Christian Villanueva, and Jeimer Candelario, none of these prospects have the same prowess and potential as Baez. With Starlin Castro looking like the Cubs short stop for the forseable future, making the move to third base would be a good idea for Baez.
Baez has all the tools that a major league third basmen should possess; A good power bat with the ability to drive the ball to all fields , and a strong arm to be able to make any throw in the infield. The Cubs should not block Baez's path to the majors even though Starlin Castro is at Baez 's primary position. Instead, they should convert Baez to third which would give the Cubs one of the best young and up and coming infields in the majors. It would be a good idea to move Baez to third ASAP so he has time to get used to the position before he is ready to go to the majors.
Many Cubs insiders throughout this offseason have spread rumors about the Cubs possibly trading Starlin Castro. If the Cubs do indeed trade Castro at some point it would weaken the Cubs major league team significantly. Even though it would allow Baez to stay at shortstop, the Cubs would be losing arguably the best young shortstop in the game. Castro is a guy that shows flashes of brilliance and flashes of utter stupidity. Castro is still developing and needs more time to grow. When Castro is fully developed he could become like A-Rod in his early years. Castro would provide the Cubs with adequate stats in every major offensive category. Trading Castro wouldn't make sense with the state of their organization.
For More Great Chicago Sports Content
Follow us on Twitter at @chicitysports23 for more great content. We appreciate you taking time to read our articles. To interact more with our community and keep up to date on the latest in Chicago sports news, JOIN OUR FREE FACEBOOK GROUP by CLICKING HERE