After the 2010 season, Marty Turco made the biggest decision of his career by deciding not to return to Dallas, where he had spent all 9 seasons of his career there, because he had one goal in mind: "I want to win a Stanley Cup." At that point of his career (in the 2010 offseason) at age 35 with a Stars franchise that had been slipping in the standings year after year, it was time for a change of scenery and quite frankly, he isn't getting any younger.
Turco turned down plenty of opportunities from teams in the hunt desperately searching for a goaltender, but he didn't bite because he felt that none of them gave him the best chance to win the ultimate prize. The Chicago Blackhawks were at the very top of his wish list and would eventually make a large pay cut to sign with them.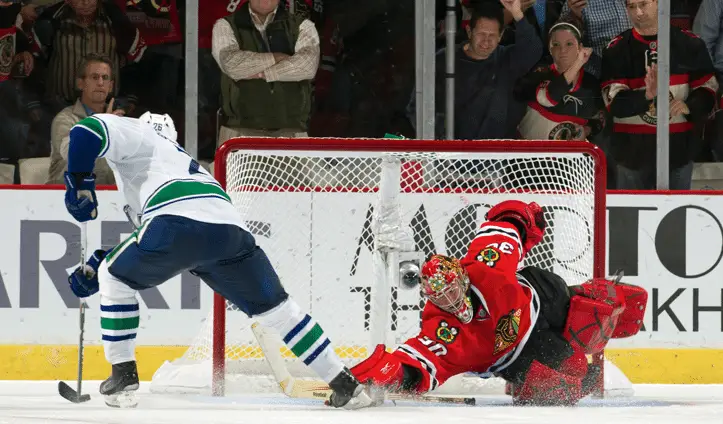 Now, the door seems to be closing very quickly now that young goaltender Alexander Salak seems to be the sure backup, but I'm a little surprised the Blackhawks have not mentioned bringing back Marty Turco despite a rollercoaster year. Fans were quick to dismiss him after a career low statistically, but it goes beyond statistics.
Turco is regarded as one of the classiest players in the league. His character, positive attitude, and leadership are what teams thrive for, and he showed it in all of 2011. He entered last season as their clear #1 goaltender, but ended up (officially) losing his starting job to Corey Crawford in December. It probably wasn't the scenario Turco had in mind after signing a 1-year deal with Chicago, but he never complained about his playing time after he lost his starting role. Not once. Sure, he was probably bummed and a little disappointed, but he always held his head high and kept a positive attitude, especially in the locker room. The 10-year veteran expressed his commitment to the team, fans, and city that he was willing to take sacrifices no matter how big they were; as long as it gave him a shot for his name to be engraved in the Stanley Cup for the first time in his career.
Marty Turco will turn 36 years old this August. So, why bring him back? Here are some reasons why:
1. To support Corey Crawford for a full NHL season… Look, if there was any pressure on Corey Crawford to perform at a high level, it was last year and he exceeded expectations immensely. But can he handle the pressure of being a goaltender that can lead by example in any scenario (on/off the ice, struggling, etc.) to a future young, possible star in Alexander Salak? Ehh, probably, but I'm sure many fans would be a lot more comfortable if Turco could support Crawford for one more full season. I'm not saying Turco should be brought back to "babysit" Crawford, think more of it as a stepping-stone. On top of it, Wade Flaherty, developmental goaltending coach, joined the Winnipeg Jets last week after 3 seasons with the Chicago Blackhawks, so why not re-sign Turco tokeep Crawford in a comfort zone?
2. Alexander Salak can develop as a #1 goalie in Rockford… Recent reports have stated that Salak's development in Europe have been outstanding; however, jumping right into the NHL straight from a European league is a huge transition for anyone, especially a rookie playing a position that is the most important. Another thing to keep in mind is that the Rockford Icehogs have a slim depth chart at the goaltending position. It would make sense for Alexander Salak to develop in Rockford as a #1 goalie and start his professional career with a small step on the right foot rather than making a big leap to the NHL.
3. Marty Turco hasn't drawn any interest from other teams, I'm sure he'll take a pay-cut… I'm pretty sure that Turco is not at that point of his career yet to call it quits. So, if he's not receiving calls from other teams, don't you think he would re-sign with Chicago for cheaper than he signed for in 2010 just so he can get a gig somewhere?
With these factors in play, it makes quite a bit of sense to bring back veteran goaltender Marty Turco for just one year to a deal even less than $1 million. What's the rush with Alexander Salak anyways? Just because he's cheap, doesn't necessarily mean he's the best option. He very well could be a great option, but it would be a lot smarter for him to ease his way into the NHL, just like Corey Crawford did. No need to rush!
For More Great Chicago Sports Content
Follow us on Twitter at @chicitysports23 for more great content. We appreciate you taking time to read our articles. To interact more with our community and keep up to date on the latest in Chicago sports news, JOIN OUR FREE FACEBOOK GROUP by CLICKING HERE