Chicago Cubs fans are conditioned to expect the worst. Seriously, it's a disease –a disease that will only be cured, as it was for the Boston Red Sox, with a World Series victory.  That disease is currently keeping a hopeful Cubs nation at bay –that and the possibility of everything coming to a screeching halt via the one-game wildcard playoff. Even as the Cubs enjoy a 9 1/2 game lead over the San Francisco Giants, there are legions of Cubs fans sitting poised for the "inevitable" to happen. Somehow, someway, the Chicago Cubs are going to blow this.
I don't think it's going to happen.
There is a big difference in being confident in your position and taking it for granted. If the Cubs go .500 over their final 22 games, it will put them at 93 wins.
Read that again.
93 wins.
If they go .500.
If the Cubs go .500, the Giants can't lose again. The Giants have to literally finish 21-0 to overtake them. What if the Cubs slump and go 0-22? The Giants still have to go 10-11. We'd be talking about an epic collapse. Epic even by Chicago Cubs standards.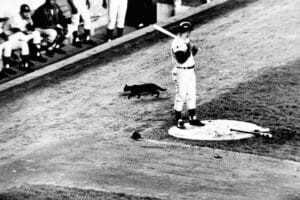 One of the darkest corners of the supposed curse is its prankster mentality. Believing things will be different this year is part of the whole thing. Always losing isn't really a curse if you know it's coming, it's just an unfortunate reality. But to truly believe —truly believe– time and time again, only to have that candle of hope snuffed out by an Alex Gonzalez bobbled double play, a black cat, or sudden incapability of playing winning baseball in the playoffs (2007-08), that's the real curse.
All that said, this time it really is different. 
Really. It is.
There's a real chance the Cubs drop the wildcard game. It's true that we've gotten to the point when that would feel like a major disappointment. It's true that if that happens, a chorus of "of course" will echo out across Cubdom. But this is not a flash in the pan like 2003. It's not a free agent frenzy like 2007 and 2008. It's young, dynamic players who, when you step back and look closely, are absolutely insane by rookie standards. From an opponent perspective, it ought to be terrifying to fathom that these guys have development left. A lot of development.
Kris Bryant lived up to the hype. Think about that for a second. Then think about just how ludicrous that hype became. Then think again that he lived up to it. Then think on how he's a 23-year-old rookie.
The Cubs, as promised by Theo Epstein, are built for sustained success. And they'll keep drafting. They'll keep signing free agents. The 2015 Cubs, regardless of how things ultimately turn out this season, have the feeling of an opening chapter to a really great book.
It's a book I'm hoping I don't have to put down until the end of October.
For More Great Chicago Sports Content
Follow us on Twitter at @chicitysports23 for more great content. We appreciate you taking time to read our articles. To interact more with our community and keep up to date on the latest in Chicago sports news, JOIN OUR FREE FACEBOOK GROUP by CLICKING HERE