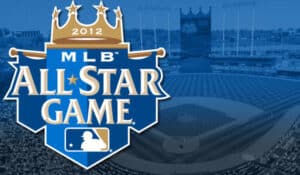 The MLB All Star game is a joke. Not like a, "Oh man this is funny!" joke, but like a bad joke that renders a room silent and proverbial crickets are all that breaks up the embarrassing, awkward dumbness.
The there are many punch lines when it comes to the All Star game, and they're all bad. And every single one of them is predicated upon the biggest joke of them all: that the winner decides who receives home field advantage in the World Series.
Get it? The joke is that the team with the best record shouldn't get home field advantage, but the winner of the All Star game – a game where the players are voted in by fans – should! Yeah. That makes WAY more sense, MLB (please note my sarcasm here).
Which brings me to my largest point of contention. If Bud Selig wants the All Star game to mean something, fine (well, it's not fine, but I'm playing along here); but then there is absolutely no reason on the planet that we as fans should have any say in a game that has World Series implications.
Here's a great example of why fans should not be allowed to vote. As of 6/5/2012, Paul Konerko (671,430 votes) was THIRD in voting for 1B behind Prince Fielder (1,027,070) and Mark Teixeira (697,602). Really? Teixeira? Excuse me while I subsequently pee myself from laughing too hard and vomit from a churning in my stomach that could only be comparable to food poisoning.
Let's look at some numbers:
What's amazing here is that Konerko is destroying the competition in AVG, OBP, OPS (1054!!), PX (power), and RAR (runs above replacement), yet he's third in voting.
I think the biggest conclusion I can draw here, other than the All Star Game is a joke, is that we as baseball fans are morons. Ok, maybe not all of us, but at least 1,724,972 of us are.
There is no reason I should be voting for this game, nor have I had any desire to. But now I feel like I must because the guy who should be the starting first baseman of the All Star game is over 350,000 votes behind the guy who should be the back-up All Star first baseman, and is 26,000 votes behind the guy who has no business being in this conversation.
From this, I can also conclude that calling it the "All Star Game" is in itself a joke. Let's just call a turd a turd and call it the "MLB Popularity Game" instead.
The only saving grace in all of this nonsense is that the managers, at least, get to choose their pitching staff.
It's time for MLB to do one of two things. Get rid of the ridiculous rule that the winner gets home field in the World Series. Then fans can vote to their heart's content (though I'd still balk at calling it an "All Star Game", but at least it wouldn't matter and fans could happily have their popularity contest). Or, keep the ridiculous rule and get rid of fan voting.
My vote is for the former option. Now that's a vote I would happily cast.