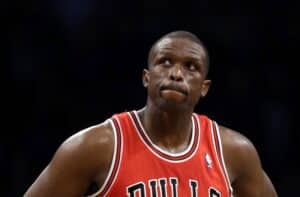 The Deng era is over in Chicago. The Bulls have official traded Loul Deng to the Cleveland Cavaliers for Andrew Bynum and 3 future draft picks. After contract talks never came to a head most saw this move coming from Chicago. Deng was willing to test the FA market, and we all know teams overpaid for talent through free agency. Deng was already as good as gone. Chicago was not willing to let him walk for nothing.
The Chicago Bulls will receive Andrew Bynum, the rights to the Kings first round draft pick, which is a protected pick for the next several years. Breaking it down, 2014 1-12, and protected 1-10 up until 2017. Also, the right for Chicago to swap its own 2015 draft pick with the Cavs 2015 1st round draft pick, only if the Cavs pick falls between 15-30. Meaning it is a protected pick 1-14. Along with Portland's 2015 2nd round draft pick.
Chicago will no doubt waste no time in waiving Andrew Bynum to save on the 12 million dollar guaranteed contract and get under the luxury tax for this season. Making it possible for them to go over the tax for the next 2 out of 3 seasons and avoid the repeater tax. Something that this organization needed to do. There is no sense on a 1st round playoff team having the 4th highest salary in the NBA.
With this happening Chicago will no doubt struggle through the remainder of the season and look to possibly get a high draft pick in this upcoming talented draft. This move may seem discouraging to some at first. However, in the grand scheme of things it's something that not only had to happen, but also, makes the future of this team better.
Source: Matt Moore CBS Sports
For More Great Chicago Sports Content
Follow us on Twitter at @chicitysports23 for more great content. We appreciate you taking time to read our articles. To interact more with our community and keep up to date on the latest in Chicago sports news, JOIN OUR FREE FACEBOOK GROUP by CLICKING HERE