Aaron Rodgers' newest venture with the New York Jets is attracting a lot of buzz from veteran players, including a retired former Chicago Bears All-Pro wide receiver. The Green Bay Packers traded Rodgers to the Jets this offseason for draft capital. His former Green Bay teammates, Allen Lazard, and Randall Cobb, have since signed with the team.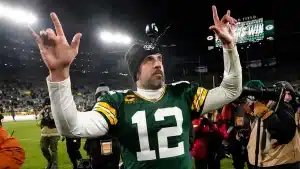 The Jets have tried to sign other veteran wide receivers interested in teaming up with Rodgers, including Odell Beckham Jr. However, Beckham's price was too high for the Jets this season, and he signed with the Baltimore Ravens.
A former Chicago Bears wide receiver wants to join Aaron Rodgers
Brandon Marshall was speaking on the I Am Athlete podcast recently. The Bears All-Pro said he'd be willing to unretire to pay for the Jets this season at a new position, tight end. Marshall said he wants to join the Jets because he believes he can win a Super Bowl this season. He claims he can still play at a high level. Marshall made a mock audition tape for what he'd tell the Jets front office in an interview:
"We're going to win a Super Bowl," Marshall said. "I'm going to be able to contribute at a high level, and this is what I'm going to be able to give you: 45 catches throughout the year, 20-to-30 plays a game. I'm going to give you eight touchdowns scoring."
Dear @NYJets,

Brandon Marshall is willing to come out of retirement and play TE for Aaron Rodgers.

We've provided a short video detailing what he'll contribute 📈

Talk soon,

– I Am Athlete Management

Subscribe & watch the full #PaperRoute convo 📰 → https://t.co/foD6j8PgyA pic.twitter.com/8pMBhOcRcG

— I AM ATHLETE (@IAMATHLETEpod) May 11, 2023
The 39-year-old athlete probably won't get that chance. Marshall reasoned on the podcast that his body would have difficulty taking physical blows this season. Not to mention, the Jets have two solid options at tight end with C.J. Uzomah and Tyler Conklin. One thing in Marshall's favor, he has ties to the Jets as he played there for the 2015-16 seasons.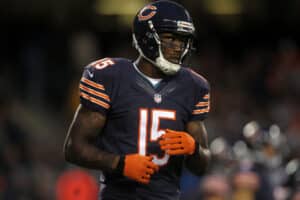 Marshall, who seems to hold a grudge against Bears management, played against Rodgers during his three seasons in Chicago as a part of the Packers rivalry. The Bears went 1-5 against the Packers when Marshall was in Chicago, so it's no wonder he has enormous respect for Rodgers.
For More Chicago Sports:
Follow me on Twitter at @JordanSig, and follow us @ChiCitySports23. You can also reach out to Jordan Sigler via email at jordanmsigler@gmail.com. To read more of our articles and keep up to date on the latest in ALL of Chicago sports, click here! Chicago Bears, Chicago Bulls, Chicago Cubs, Chicago White Sox, Chicago Blackhawks.
For More Great Chicago Sports Content
Follow us on Twitter at @chicitysports23 for more great content. We appreciate you taking time to read our articles. To interact more with our community and keep up to date on the latest in Chicago sports news, JOIN OUR FREE FACEBOOK GROUP by CLICKING HERE