Could the Chicago Bears be thinking about a new quarterback at nine?
There are plenty of options for the Chicago Bears to take on draft night. General manager Ryan Poles is sitting at the unenviable number nine position in the first round. The Bears, who held the number one overall pick a month and a half ago, are no longer in control of being able to take whatever blue-chip prospect they fancy. One NFL analyst thinks the Bears should be open to taking a curve ball in the first round.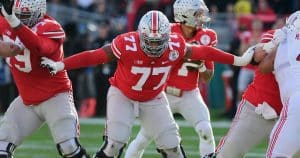 NFL analyst John Daigle was on the Move The Sticks podcast recently. Daigle said the Bears have to consider drafting Florida quarterback  Anthony Richardson if he falls to the number nine pick. He thinks the Bears would benefit by "quarterback clock" on an improving roster:
"So, if you're trying to maximize that five-year window on a rookie contract, you've reset it, you've got a larger window, you've got a better team now than you did two years ago. You're going to have to pay Justin Fields in here coming up before the team is really, really good and ready to win. You could then extend that period out, trade Justin Fields and get some draft capital in return…

Now I know Chicgao with the fanbase, they've grown attached to Justin and Justin has done some fun things to watch with what he's done with his legs, and glimpses and flashes with his arm. But Buck, I'm telling you man, has he done enough to not even consider this. Maybe they don't do it, but I guarantee this discussion and scenario has to take place."
It's official: no one knows anything about this draft, myself included. pic.twitter.com/abXSDRm0ii

— John Daigle (@notJDaigle) April 13, 2023
Oh, we knew it was official before you posted this John…
The Bears would make a mistake by taking Richardson at nine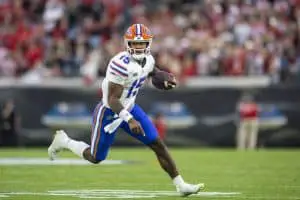 Daigle's point is valid on resetting the quarterback clock. The timing of Fields' draft is a factor Poles will need to consider next season after Fields has had a chance to show what he can do with an improved offensive line and wide receiver D.J. Moore.
The Chicago Bears should only consider taking Richardson if they think he has the chance to be a better quarterback than Fields. And Poles should absolutely be working with his scouting team to decide if that's the case. I don't believe it to be. College tape shows Richardson to have serious problems with consistency as a passer. The Bears would do better to trade that number nine pick to a team that still needs a quarterback and pocket the capital for more help on the roster.
Unfortunately, Fields' trade value isn't high this offseason because of the situation he inherited in Chicago. And Daigle is right that Fields hasn't shown enough that the Bears shouldn't consider his replacement this offseason. But the options at quarterback in this year's draft aren't as great as what will be available in 2024. If Fields can't improve as a passer this season, Poles should be aggressive in the quarterback market next April.
For More Great Chicago Sports Content
Follow us on Twitter at @chicitysports23 for more great content. We appreciate you taking time to read our articles. To interact more with our community and keep up to date on the latest in Chicago sports news, JOIN OUR FREE FACEBOOK GROUP by CLICKING HERE