The Chicago Bears could trade back again
The Chicago Bears made one franchise-altering trade for the 2023 NFL Draft when they swapped the number one overall pick to the Carolina Panthers. General manager Ryan Poles pulled the trigger on the trade instead of risking the opportunity to pull a double trade with the Houston Texans and Panthers in the top ten of the draft for extra picks. He's reportedly open to trading back in the draft again.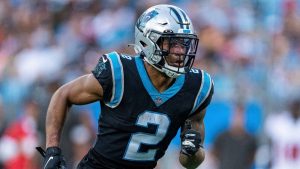 The trade with the Panthers worked in the Bears' favor. The admittedly non-greedy Poles landed much-needed draft capital. He also received wide receiver D.J. Moore, allegedly being granted by Panthers management the least valuable player of the three players Poles' was interested in (the other two Panthers players were defensive end Brian Burns and defensive tackle Derrick Brown), according to Joe Person with The Athletic.
Via the trade with the Panthers, the Bears are set up with the ninth overall pick in April, an extra first-round choice in 2024, a second-round pick (61st) in 2023, and a 2025 second-round selection. One issue for the Bears with where their current draft class is their density of early draft picks.
The Chicago Bears, at nine, are too far away from the elite picks teams typically find in the top five. Their next pick after nine won't come until the 53rd spot because of the Chase Claypool trade last season. The Bears could trade that nine pick to gain more picks in the early rounds.
Poles is open to trading the nine
According to Jason Lieser with the Chicago Sun-Times, Poles said at the Alabama Pro Day Friday he's open to trading down again from the ninth position. And they could even trade up:
"We're open to that," said Poles, who didn't rule out trading back up, either. "It depends on what the deals look like, but there's also multiple drop-offs as you go back throughout the draft. So we might not think that's the best way to go because a certain drop-off at a certain premium position might be coming up soon. We stay fluid."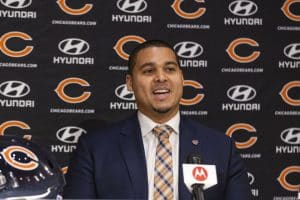 Poles traded the number one pick before the draft because he needed to make the trade before the free agency for teams that needed a quarterback and could find another option early last week. The next trade back would come on draft night and will depend on the names off the board by the time the Bears are on the clock. But trading down again could be an option for the Bears to try and land more help in the trenches. After all, there's a good bust chance where the Bears are picking right now.
For More Great Chicago Sports Content
Follow us on Twitter at @chicitysports23 for more great content. We appreciate you taking time to read our articles. To interact more with our community and keep up to date on the latest in Chicago sports news, JOIN OUR FREE FACEBOOK GROUP by CLICKING HERE