Chicago Bears head coach Matt Eberflus said last week that practice right now is voluntary and that his staff will coach up the players that show. The team's best cornerback, Jaylon Johnson, is not getting that instruction on the field right now. He explained why in an interview with ESPN Thursday morning.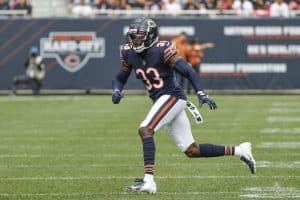 Johnson, who is heading into a contract year with the Bears, is receiving off-the-field instruction from the coaching staff this offseason. According to Kevin Fishbain with The Athletic, defensive back coach Jon Hoke, said Wednesday that Johnson participates in Zoom meetings and asks questions on practice tape he watches.
Bears DBs coach Jon Hoke on his contact with Jaylon Johnson: "He Zooms with the meetings and stuff like that. He texts me almost every other day. He'll ask questions because he watches practice tape."

Will Johnson be at minicamp?

"I think he'll be here sooner than later."

— Kevin Fishbain (@kfishbain) May 31, 2023
The Chicago Bears OTAs are for nerds?
Johnson appeared on ESPN's Keyshawn, JWill, and Max Thursday morning. According to ESPN's Courtney Cronin, who transcribed part of the interview, Johnson said he was missing OTAs to spend time with his daughter:
Bears CB Jaylon Johnson was on @KeyJayandMax this morning and said he will "for sure" be at OTAs next week after missing the first two weeks. "I know I had a lot of things off the field going on." Said that he's been spending time w/ his young daughter back in Fresno, California

— Courtney Cronin (@CourtneyRCronin) June 1, 2023
along with creating different business opportunities and fundraisers for his non-profit, Kevvys Vision Project, which honors his friend, Kev'Vion Schrubb, who was killed by gun violence in 2021.

— Courtney Cronin (@CourtneyRCronin) June 1, 2023
One can't blame Johnson for spending time with his family and taking care of his business off the field. However, everyone on the Bears roster has "things" off the field going on. Johnson is choosing to prioritize his family and well-being off the field over attending a non-padded practice. (Let's not forget Johnson spent the end of last season on injured reserve.) I think people can make up their own mind on the merits of that decision.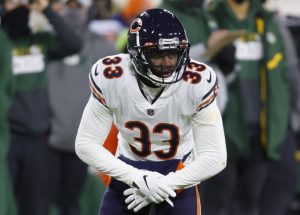 Jaylon Johnson doesn't feel the pressure
Johnson talked some during his appearance about his upcoming contract negotiation. He appears to have a new attitude about it this season. Per Cronin, Johnson said if the Bears win, he'll get his money:
"Honestly, for me, it used to be a lot of pressure," Johnson said. "I would even say for me going into my third year, I felt like that was the year for me to put myself out there to be able to have a new contract, to be able to re-up. For me, it's just about going out and being who I am. I know I can be a dominant corner. I am a dominant corner in this league, following No. 1 wide receivers and just finding ways to continue to do my job at a high rate, continue to be a better teammate, continue to find ways to win."
Johnson will get a contract from the Bears if he can produce on the field. He's been the Bears' best cornerback, but that's not saying much. According to Pro Football Focus, Johnson has never had a season overall grade above 65 during his first three seasons in the NFL. His coverage skills have become sharper each season, but Johnson has created only two turnovers in his professional career, and only one of those was an interception. Missing practice probably won't help with that.
For More Chicago Sports:
Follow me on Twitter at @JordanSig, and follow us @ChiCitySports23. You can also reach out to Jordan Sigler via email at jordanmsigler@gmail.com. To read more of our articles and keep up to date on the latest in ALL of Chicago sports, click here! Chicago Bears, Chicago Bulls, Chicago Cubs, Chicago White Sox, Chicago Blackhawks.
For More Great Chicago Sports Content
Follow us on Twitter at @chicitysports23 for more great content. We appreciate you taking time to read our articles. To interact more with our community and keep up to date on the latest in Chicago sports news, JOIN OUR FREE FACEBOOK GROUP by CLICKING HERE