The Chicago Bears could land a top running back
The Chicago Bears made some major changes to their roster at running back in free agency. More changes could still come, as the Bears haven't found a true number-one running back to replace David Montgomery after he signed with the Detroit Lions last week. One analyst suggested the Bears are the best trade partner for one of the league's best running backs.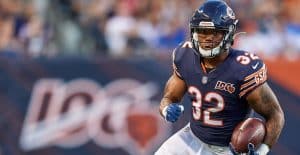 The Bears have been linked to other prime running backs this offseason. They had the best odds to sign Saquon Barkley before the New York Giants applied the franchise tag to him for the 2023 season. Former Dallas Cowboys running back Ezekiel Elliott and Los Angeles Chargers running back Austin Ekeler are other players who have been rumored as fits for the Bears.
Derrick Henry to the Chicago Bears?
Sam Monson with Pro Football Focus named the best fits for top players that could be traded this offseason. The Tennessee Titans are rumored to be interested in trading All-Pro running back Derrick Henry. Monson named the Bears as the best trading partner for the Titans if they wanted to trade Henry:
"Trying to find willing trade partners for a 28-year-old running back with almost 2,000 career carries and a salary cap number in excess of $16 million this season is a major challenge, but there are teams out there that could see it as the kind of move that puts them over the top. Henry is the kind of unicorn at the position that changes the rules of everything we know about running the football in the modern NFL, which could well extend to the kind of career lifespan he will have as a running back. In today's arms race of elite teams looking to win a Super Bowl, there may be a side willing to do what would seem reckless in the past to get over the hump. Henry has averaged 3.7 yards per carry after contact for his entire career."
This would be an intriguing option for the Bears, and the most exciting Derrick Chicago has seen since the Rose era. The Bears signed one of Henry's best blockers from recent years, Nate Davis, to the offensive line in free agency last week. Henry isn't going to do much to help Justin Fields in the passing game, but giving the backfield an elite running back like Henry could make Davis' deal in Chicago a valuable one for a run-heavy offense.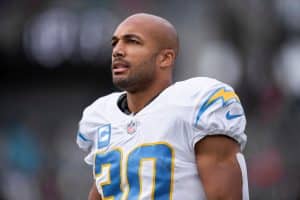 Henry is a two-time NFL rushing leader. At 29 years old, he's not slowing down much. Henry had the second-most rushing yards (1,538) in the league in 2022, trailing Las Vegas Raiders running back Josh Jacobs by 115 yards. He racked up 13 rushing touchdowns for the Titans last season.
For More Great Chicago Sports Content
Follow us on Twitter at @chicitysports23 for more great content. We appreciate you taking time to read our articles. To interact more with our community and keep up to date on the latest in Chicago sports news, JOIN OUR FREE FACEBOOK GROUP by CLICKING HERE