Reports have come out the Pittsburgh Steelers are interested in moving up in next week's draft. The Chicago Bears were named by Peter King with Football Morning in America as a potential trade target for the Steelers. Early reports suggested the Steelers were interested in taking an offensive lineman with the number nine spot. However, King wrote the Steelers would want to trade up for Georgia defensive tackle Jalen Carter. We'll look at what the Bears could receive for giving up the number nine overall pick.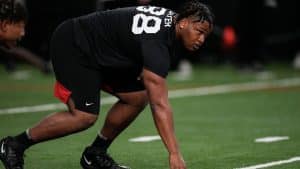 The Chicago Bears already traded back once in this draft
The Bears already traded back once in the 2023 NFL Draft. The Bears received D.J. Moore and several draft picks. However, general manager Ryan Poles has no picks between nine and 53, and he could be in the business of trading back on draft night to land the Bears more quality picks in the early rounds. Personally, I don't think the Bears would trade back if Carter is on the board. Poles would likely gift head coach Matt Eberflus a three-tech for the defense if Carter were available.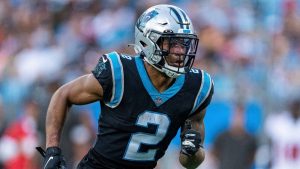 However, if Carter is gone and there were a few wide receivers, offensive linemen or defensive linemen on Poles' board, one could see the Bears drafting back several spots to increase their opportunities to find top-tier starters. This draft is perfect for Poles to trade back in, as the first round features top-heavy prospects. The Bears would easily find a great prospect at 17 if the Steelers were desperate for a particular offensive tackle at nine.
What a Chicago Bears/Pittsburgh Steelers trade would look like
According to the draft value chart, the difference between the ninth and 17th overall pick is 400 points. The Bears will want the 32nd overall pick they gave the Steelers last November. The value for the 32nd pick is 590 points. So the Bears and Steelers would need to haggle over some second and third-day picks to get to near equal value for a potential trade.
Proposed trade for the Chicago Bears' number 9 overall pick
Bears receive
Number 17 overall pick
Number 32 overall pick
Number 80 overall pick
Steelers receive
Number 9 overall pick
Number 64 overall pick
Number 103 overall pick
The difference on the value chart here would be 22 points in the favor of the Bears. But that seems only fair for a team who would give up their own chance to draft an offensive tackle with the number nine overall pick.
For More Chicago Sports:
Follow me on Twitter at @JordanSig, and follow us @ChiCitySports23. You can also reach out to Jordan Sigler via email at [email protected]. To read more of our articles and keep up to date on the latest in ALL of Chicago sports, click here! Chicago Bears, Chicago Bulls, Chicago Cubs, Chicago White Sox, Chicago Blackhawks.
For More Great Chicago Sports Content
Follow us on Twitter at @chicitysports23 for more great content. We appreciate you taking time to read our articles. To interact more with our community and keep up to date on the latest in Chicago sports news, JOIN OUR FREE FACEBOOK GROUP by CLICKING HERE