The Chicago Bulls were heading into the offseason hoping to keep their core intact for a run next season, but a recent report casts doubt on the team's plans this offseason. The Bulls were one win in the play-in game against the Miami Heat from making the playoffs.
That was a major disappointment after the Bulls invested in star player Zach LaVine last offseason with his max contract. The Bulls' main core of LaVine, DeMar DeRozan, and Nikola Vučević didn't perform to their expectations in 2022-23. Many fans would like to see the Bulls blow it up and start over. However, the brass recently said they'd like to keep the roster mostly intact. 
There has been speculation the Bulls could try to trade or sign a top free agent this offseason to make the team more competitive until Lonzo Ball is back from his injury. A new report casts into doubt the possibility the Bulls will wait for Ball. 
The Chicago Bulls don't think their star will play again
According to Dan Berstein, who spoke on the Organizations Win Championships podcast, the Bulls brass has said privately they don't believe Ball will play for the Bulls or in the NBA again.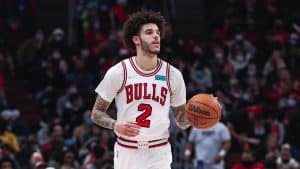 That would be a huge blow for the Bulls. Ball was the key to the team having the best record in the NBA before he succumbed to injury. Three surgeries later, it looks like Ball might never recover. There is now a huge hole in the Bulls' lineup as they need a strong point guard to play defense and give the team assists to their strong offensive core.
Bulls fans react to the news
Bulls fans reacted to the report not long after the podcast came out. Here are the best takes of the Bulls thinking their star will never return. 
Somebody doesn't understand the meaning of privately https://t.co/1ksB8H5Dff

— MaltLiquorPapi (@LowkeyBrilliant) May 28, 2023
This bums me out. Hoping he comes back and at least has a Shaun Livingston type of recovery and career. Different injuries, but still https://t.co/NDQUiOr4fV

— Daily Sabonis (@DailySabonis) May 28, 2023
Hope this ain't true lonzo my favorite PG in the league https://t.co/Am3GfAUyiG

— The Lakers Chip (@LakersChipp) May 28, 2023
Mannnn…Not Zo https://t.co/ofq1dKehfz pic.twitter.com/f3UwZQe2k9

— Lil Affirmative Action Hire (EJ) 🇲🇽 (@erickdaRed) May 28, 2023
No more Bad News Bulls please https://t.co/gF2bcOCpx0 pic.twitter.com/sBIErq807S

— Eric Floyd (@eric2floyd) May 28, 2023
For More Chicago Sports:
Follow me on Twitter at @JordanSig, and follow us @ChiCitySports23. You can also reach out to Jordan Sigler via email at jordanmsigler@gmail.com. To read more of our articles and keep up to date on the latest in ALL of Chicago sports, click here! Chicago Bears, Chicago Bulls, Chicago Cubs, Chicago White Sox, Chicago Blackhawks.
For More Great Chicago Sports Content
Follow us on Twitter at @chicitysports23 for more great content. We appreciate you taking time to read our articles. To interact more with our community and keep up to date on the latest in Chicago sports news, JOIN OUR FREE FACEBOOK GROUP by CLICKING HERE