Scottie Pippen made headlines Friday night when a video surfaced of him taking a shot at a former Chicago Bulls teammate. Bulls fans had their opinions on the spicy commentary. Pippen made a video where he decided to weigh in on the Michael Jordan versus Lebron James legacy after the latter said they were considering retirement this offseason after being broken by Nikola Jokić in the Western Conference Finals.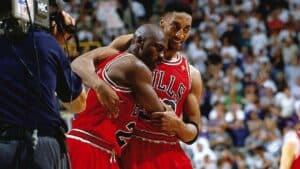 Pippen said the stats show James had a better career than Jordan and that there wasn't a comparison to James by any player in the league's history. Pippen said that even with James having the best stats, he couldn't give an opinion on who the best player of all time is. Basketball is too much of a team sport for one player to take the spotlight, he said. Pippen then took a shot at a player he won six NBA titles with, calling Jordan a "horrible player":
"I seen Michael Jordan play before I came to play with the Bulls," Pippen said. "You guys seen him play. He was a horrible player. He was horrible to play with. He was all one-on-one. He's shooting bad shots. All of a sudden, we become a team, and we start winning; everybody forgot who he was."
#Bulls Scottie Pippen: "LeBron James will be the greatest statistical [player] to ever play the game of basketball. [Michael Jordan] was a horrible player." pic.twitter.com/j3bQ8rWcte

— Die-Hard Chicago Bulls Fans (@DieHardCBfans) May 26, 2023
Chicago Bulls fans react to Scott Pippen's take on Michael Jordan
One would almost think Digits inspired those comments. Individual players like Jordan make a difference. There are better basketball players than others. If not, you or I could take the court. But Jordan did need talented help around him, and Pippen was a great player in his own right.
Bulls fans took to social media after Pippen's comments about Jordan became public. Here are the best takes of Pippen calling Jordan "horrible."
Go back and sit for the final seconds because the play wasn't called for you or better yet, have a surgery late to screw up your team the following season. Rode MJs coattails for all the titles. Unappreciative goof! @1252_sports @ESPN1000 https://t.co/qGzGVbTd6z

— Fred Huebner (@fred_huebner) May 27, 2023
Guys just pissed Jordan's son took his wife. https://t.co/OA2EhLt6uz

— Mr. Riverhaze (@peanutspunch) May 27, 2023
This man is going through something. I've never seen someone speak so much about a former teammate decades later. Especially ones with so much success. He should probably work through some issues he's got going on. https://t.co/d6uf8bDWPu

— PABearsfan (@bearsfan_pa) May 27, 2023
Terrible, god-awful, idiotic, selfish take. It's a shame he feels this way https://t.co/ZMT5HIN4fg

— Jon Trampe (@jon_trampe4) May 26, 2023
By his logic Wilt Chamberlain should be the greatest statistical player of all time https://t.co/xZwNl4a5Py

— Ayobami (@Mocherexs) May 26, 2023
Scottie Pippen: "Michael Jordan was horrible to play with"

Also Scottie Pippen: https://t.co/BPoUUBx0De pic.twitter.com/o1eB0LyPzu

— Allen Stiles (@The_StilesFiles) May 27, 2023
Scottie out here still crying and it's been what? 25-30 years? https://t.co/8QdMRAsrS9 pic.twitter.com/LVbqcEBAsz

— Faux George McCaskey *Parody* (@FauxMcCaskey) May 26, 2023
Man this dude just keeps burning all his bridges in his basketball life. Way to tarnish your legacy 🤡🤦 https://t.co/zAmDT6lsir

— IrishBaller86 (@Cronin_10) May 26, 2023
I know Scottie has gone through it the last few years and he's had some spaceball takes but this is bizarre. https://t.co/yBy4QnhZE7 pic.twitter.com/5QNZAS6Fkf

— drunkharrycaray (@drunkharrycarey) May 27, 2023
For More Chicago Sports:
Follow me on Twitter at @JordanSig, and follow us @ChiCitySports23. You can also reach out to Jordan Sigler via email at jordanmsigler@gmail.com. To read more of our articles and keep up to date on the latest in ALL of Chicago sports, click here! Chicago Bears, Chicago Bulls, Chicago Cubs, Chicago White Sox, Chicago Blackhawks.
For More Great Chicago Sports Content
Follow us on Twitter at @chicitysports23 for more great content. We appreciate you taking time to read our articles. To interact more with our community and keep up to date on the latest in Chicago sports news, JOIN OUR FREE FACEBOOK GROUP by CLICKING HERE