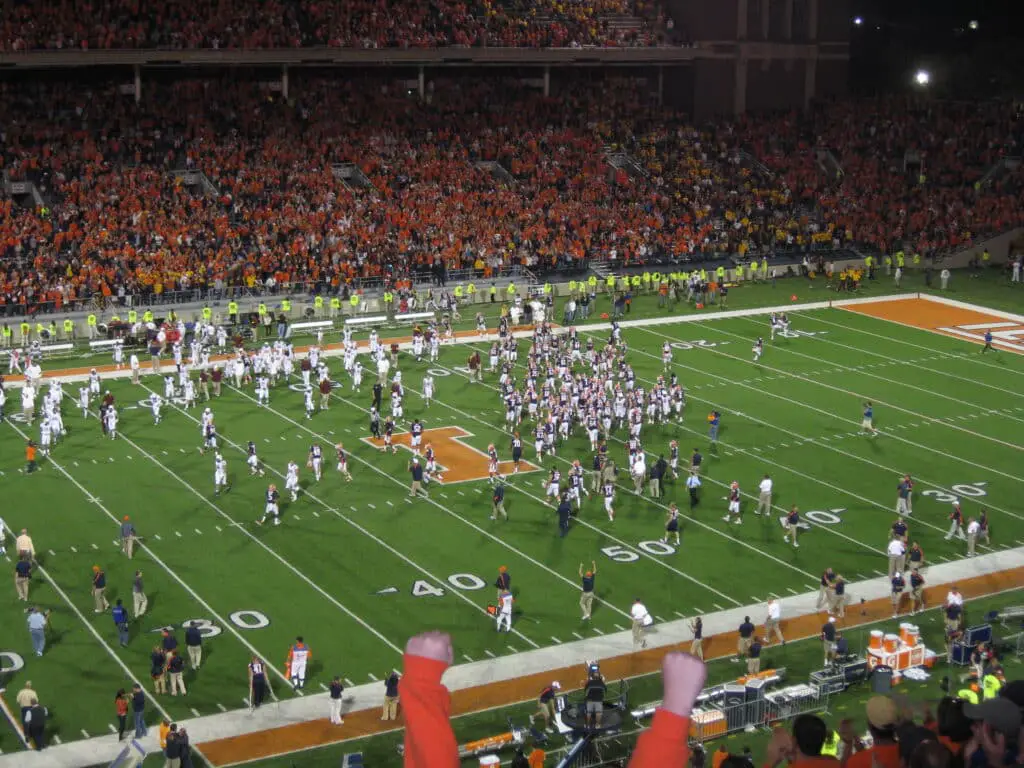 It's settled. The only thing standing between Illinois and a trip to the Big 10 championship game is a November matchup against Wisconsin.
I'm being facetious, of course, but it's fun to look through the schedule and imagine the possibilities. I read an article earlier this week declaring 10-2 to be realistic, 9-3 to be unacceptable. Another article said that, at this point, the only goal should be an undefeated season and a trip to the national championship game. The issue, of course, is actually winning the games we deem as "winnable."
During the Rose Bowl season, after losing the season-opener to Missouri, Illinois rattled off five consecutive wins, culminating in the defeat of fifth ranked Wisconsin. I distinctly remember talking with some friends about the upcoming schedule and predicting a 9-1 record heading into the Ohio State game in Columbus. You know what happened? We lost to Iowa the very next week.
Right now, I feel like we're living in a sort of relative relevancy. 3-0 for the first time since 2001, ranked for the first time since September of 2008, defeated an AP-ranked opponent for the first time since 2007. It all feels so new and exciting, but that's what legitimate college football programs do. They beat good teams.
In a few months, we could be looking back, laughing at the fact we actually considered the possibility of Illinois winning the Big Ten.
But here's what's exciting: Illinois could win the Big Ten. I said could…not should…not will…but could. Of the nine games remaining on the schedule, the Illini will probably be favored to win seven, potentially eight. A Big Ten title is within the realm of possibility, and that's crazy.
09/03/11          vs. Arkansas State – W, 33-15
09/10/11          vs. South Dakota State – W, 56-3
09/17/11          vs. Arizona State – W, 17-14
09/24/11          vs. Western Michigan
10/01/11          vs. Northwestern
10/08/11          at Indiana
10/15/11          vs. Ohio State
10/22/11          at Purdue
10/29/11          at Penn State
11/12/11          vs. Michigan
11/19/11          vs. Wisconsin
11/26/11          at Minnesota
12/03/11          Big Ten Championship Game
As for the Arizona State game itself…
Offensive Player of the Game: AJ Jenkins
6 receptions, 103 yards, TD. Represented 76% of Scheelhaase's 135 passing yards. Caught the go-ahead touchdown with ten minutes to go in the fourth.
Defensive Player of the Game: Jonathan Brown
7 tackles, 3.5 tackles for loss, 1.5 sacks, INT. Named Big Ten Defensive Player of the Week.
Key Play: Whitney Mercilus forced fumble, Ian Thomas fumble recovery.
After Arizona State took the lead early in the 4th on Brock Osweiler's touchdown run, Illinois went 3-and-out and had to punt. ASU got the ball on the 27 and immediately busted off a 17-yard run to get near midfield. I can only speak for myself, but I thought it was over. The energy had clearly begun to drain out of the previously raucous Memorial Stadium crowd…and then it happened. Mercilus came off the edge, knocked Osweiller to the turf…out popped the ball, Ian Thomas recovered, and Memorial Stadium went crazy. Four plays later, Jenkins scampered in for the go-ahead, and eventual game-winning, touchdown.
Big Picture: Illinois is 3-0.
I was tempted to write, "Illinois has a legitimate chance to win the Big Ten." But that's not the big picture, and that sort of thinking, when applied by coaches and players, usually results in unexpected losses. So, big picture: the Illini are 3-0 and will take on Western Michigan this Saturday at Memorial Stadium.
For More Great Chicago Sports Content
Follow us on Twitter at @chicitysports23 for more great content. We appreciate you taking time to read our articles. To interact more with our community and keep up to date on the latest in Chicago sports news, JOIN OUR FREE FACEBOOK GROUP by CLICKING HERE