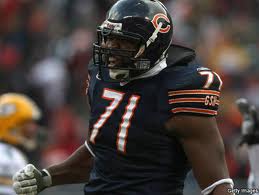 Idonije played for the Chicago Bears from 2004-2012.
We all knew that Israel Idonije's days as a Bear were numbered, we just didn't want to believe it. Even after all of the offseason issues with the salary cap and the losses of key defensive players from last year, there was still hope that No. 71 would return. Eventually reality would set in. First, the Bears did offer Idonije a new contract but it was less than what he was looking for so he turned it down.
Second, the Bears brought in six new defensive lineman right after the NFL Draft. Then came the straw that finally broke the camels back, the signing of free agent defensive tackle Sedrick Ellis earlier this month. From there it was set in stone that one of the most beloved Bears players outside of Brian Urlacher was soon to be gone.
After entertaining offers from other teams including San Francisco and Tennessee, the 6-6 pass rusher announced this week that he has signed with the division rival Detroit Lions. The Nigerian-born defender brings his 272 career tackles and 28 1/2 career sacks with him to the Motor City. He also brings the flexibility to play both defensive end and defensive tackle. The terms of his deal were not disclosed but it is safe to assume that it was more than the Bears were able to offer.
It's a win-win situation for both sides as Idonije gets his contract while the Lions in-turn boost their pass rush. Of course this is not the first time that a former Chicago Bear has traded the blue and orange for the uniform of a division rival. Steve McMichael, Bernard Berrian, Dewayne Bates and Rashaan Salaam are just a few other players who have done so.
Perhaps Idonije could be a mentor to the temperamental Ndamukong Suh. Despite Idonije's hard play on the field, he always manages to keep his composure. But the biggest test for the 32-year-old will be when the Bears and Lions meet for the first time on September 29th in Detroit. Until then, we can all finally move on  now that "Izzy" is officially gone from Chicago.
Follow me on Twitter @GabeSalgado82
For More Great Chicago Sports Content
Follow us on Twitter at @chicitysports23 for more great content. We appreciate you taking time to read our articles. To interact more with our community and keep up to date on the latest in Chicago sports news, JOIN OUR FREE FACEBOOK GROUP by CLICKING HERE