The Chicago Bears made a much-needed acquisition Thursday night when they added defensive end Yannick Ngakoue to the roster. Per multiple reports, Ngakoue signed with the Bears on a one-year deal worth up to $10.5 million. Bears fans were pretty happy to learn the news.
The Bears' defensive line was one of the worst in the league last season. General manager Ryan Poles added three defensive tackles in the draft but didn't add a major pass-rushing talent at the defensive end position. Ngakoue's one-year deal will act as a patchwork solution to help the pass rush until Poles can find a long-term solution next spring.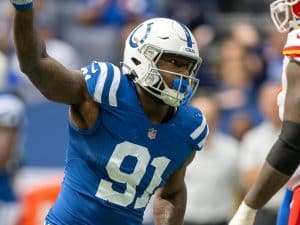 Chicago Bears fans are excited about signing Yannick Ngakoue
Bears fans were celebrating almost immediately after Adam Schefter's report hit Twitter. Here are the best takes on the Bears signing Ngakoue.
10 win team https://t.co/OLEJGfGT4S

— shea (@sheanorling) August 4, 2023
SO GLAD I JUST CAUGHT THIS NEWS IN LUNCH BREAK !!

CHICAGO , ITS FUCKING LITTTT 🔥🔥🔥🔥🔥

LETS GOOOOOO !!!!! 🐻⬇️🐻⬇️🐻⬇️

We got our fucking pass rusher , oh my gosh dawg 😩😩👊🏿 https://t.co/41i3olWf9C

— R.I.P. Papa G (@AlreadyTakin_20) August 4, 2023
That's a lot of money for someone who has been ineffective against the run #DaBears https://t.co/1OaPUpq4ey

— Joe Chatz (@JoeChatz) August 4, 2023
Absolutely love this for the Bears. Ngakoue is a quality pass rusher and someone Chicago really needed. Still in his prime as well https://t.co/avRNTYBrQ8

— Matt Verderame (@MattVerderame) August 4, 2023
WE INTERRUPT THE CUBS GAME https://t.co/6busmLfIZe pic.twitter.com/l4FbPOPNv2

— Morale Supply Co.™ (@moralesupplyco) August 4, 2023
legendary NFL mercenary. not many like him, we have to appreciate him while we can https://t.co/d0nJgRBhfU

— Derrik Klassen (@QBKlass) August 4, 2023
If his pass rush is as good as his groundstrokes, the Bears are in good shape. https://t.co/kysvnDHngs pic.twitter.com/MOzMh9rJ7K

— jon greenberg (@jon_greenberg) August 4, 2023
Playoffs. https://t.co/WifWx3mO3n

— Chris Bleck (@chrisbleck) August 4, 2023
pic.twitter.com/9e3GehAy6y https://t.co/Yuzdetrtdj

— 🎡 (@FieldsToMooney) August 4, 2023
For More Chicago Sports:
Follow me on Twitter at @JordanSig, and follow us @ChiCitySports23. You can also reach out to Jordan Sigler via email at jordanmsigler@gmail.com. To read more of our articles and keep up to date on the latest in ALL of Chicago sports, click here! Chicago Bears, Chicago Bulls, Chicago Cubs, Chicago White Sox, Chicago Blackhawks.
For More Great Chicago Sports Content
Follow us on Twitter at @chicitysports23 for more great content. We appreciate you taking time to read our articles. To interact more with our community and keep up to date on the latest in Chicago sports news, JOIN OUR FREE FACEBOOK GROUP by CLICKING HERE