Chicago Bears were surprised by a few decisions the coaching staff made for the first depth chart the team released ahead of their first preseason game against the Tennessee Titans.
The Bears listed one rookie, Darnell Wright, as a starter on the chart. The rest of the class will have to impress the coaching staff in the preseason and during the early regular season. It looks like Gervon Dexter is destined to become the future 3-tech, and Zacch Pickens will become the 1-tech.
One rookie, Roschon Johnson, stands out on the depth chart because he's fifth on the list. (Johnson missed a few practices when the padded practices started last week.)
The other big surprises are with Bears players that have a few years of experience but could be on the bubble this summer. Defense end Trevis Gipson is fourth on the chart. Cornerback Kindle Vildor is listed sixth on the chart.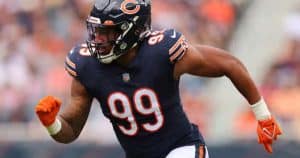 Chicago Bears fans react to the depth chart
The chart isn't set in stone for the regular season, so Tuesday's release doesn't mean a whole lot. There are still several weeks before the regular season starts. But this is the first glimpse at where the Bears coaching staff sees the roster right now.
Fans reacted to the release on social media. Here are the best takes on the Bears' new depth chart.
Gipson being a 4th string DE is saying something, man. https://t.co/Gr2zSDY6Cv

— Matt Carstensen (@BearsNerd) August 8, 2023
If you can trade Roquan Smith for a backup DT from one of the SECs worst run defenses and then sign a much worse LB for almost the same amount as Roquan you gotta do it https://t.co/8WQR0wyx5s

— Mario Puig (@ThePostingScout) August 8, 2023
Center, STILL a problem. https://t.co/VkHhBKLqJH

— PROTECT JF1 (@beesley_chad) August 8, 2023
3 surprising bits here, if this roster actually mattered:

1. Roschon as RB5 👀
2. Travis Bell, considered a project, is DT3 👀
3. We'd rather risk injury to DJ or BoJack then let Tyler Scott muff a punt 👀😂 https://t.co/x986R4nc4n

— Tofer (@CYacoub713) August 8, 2023
Looks like Gipson and Vildor might be done, encouraging that the younger guys/FA pickups outplayed both of them. #DaBears https://t.co/Oz8AEKuEGv

— Larski (@GuruKevlar) August 8, 2023
Incoming comments about Roschon being listed as 5th string… https://t.co/74DUXYB0VF

— Noah Wright (@noahrwright) August 8, 2023
Equanimeous St. Brown will likely make the team because of his blocking and he's in the same column as Chase Claypool. https://t.co/zK0RxuAJrt

— Cory Jennerjohn (@CoryJennerjohn) August 8, 2023
I think Trevis Gipson is still worthy but damn. https://t.co/2B52mfUv71 pic.twitter.com/MUVIDsl2Ns

— Brendan Sugrue (@BrendanSugrue) August 8, 2023
Roschon at RB5 is CRAZY https://t.co/4RXzRHAjhQ

— Drunk Ryan Poles (@DrunkRyanPoles) August 8, 2023
Gipson must not be able to do the job at DE to be down so far. Would a move to 3T work for him? https://t.co/PYd90zvdBF

— JD Brown (@JDBrownWrites) August 8, 2023
For More Chicago Sports:
Follow me on Twitter at @JordanSig, and follow us @ChiCitySports23. You can also reach out to Jordan Sigler via email at jordanmsigler@gmail.com. To read more of our articles and keep up to date on the latest in ALL of Chicago sports, click here! Chicago Bears, Chicago Bulls, Chicago Cubs, Chicago White Sox, Chicago Blackhawks.
For More Great Chicago Sports Content
Follow us on Twitter at @chicitysports23 for more great content. We appreciate you taking time to read our articles. To interact more with our community and keep up to date on the latest in Chicago sports news, JOIN OUR FREE FACEBOOK GROUP by CLICKING HERE