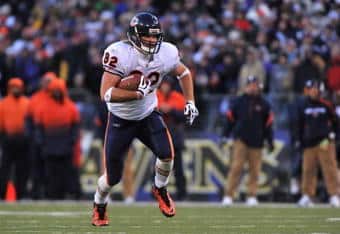 If you are sitting on your couch this morning with your Bears tee on anticipating the noon kickoff in Dallas, your not alone. If you are thinking that the Bears have a chance to pull off the upset in Big D, you might be.
From everything I've been reading, there aren't too many "experts" giving the Bears a chance to win this Week 2 match-up. Looking at the Chicago Tribune this morning I read these comments on the upcoming game:
Brad Biggs: "…the Cowboys are a physical matchup that will be a problem for the undersized Bears." Dallas 27 Chicago 14
David Haugh: "…a second strong game by the defense may not be enough." Dallas 28 Chicago 23
Vaughn McClure: "It will be difficult to contain Cowboys star rusher DeMarcus Ware…" Dallas 24 Chicago 17
Fred Mitchell: "The Cowboys many weapons figure to ignite at home against the Bears." Dallas 31 Chicago 23
Dan Pompei: "The Cowboys are a wounded dog." Dallas 27 Chicago 21
Alrighty then. That's just one publication. When I check out my Sun Times it's more of the same. Rick Telandar, Rick Morrisey, Neil Hayes, Mike Mulligan and Mark Potash all predict a Cowboys win. Though we do have one detractor in Sean Jensen who likes the Bears today, going with a 27-23 Chicago victory.
Doug Kretz from Scouts Inc. likes the Cowboys, as do all the ESPN "experts." Accuscore predicts a Dallas win as do Sterling Sharpe, Joe Thiesman and Brian Baldinger at NFL.com.
Okay, you get my point. The Bears aren't expected to do much today, and it may not even be a true indicator of their talent level or lack there of. It could just be bad timing to head to Dallas.
I for one am in the same boat as a those I've listed above because two things worry me about this matchup.
One: the Bears looked shaky on offense last week. I know Jay Cutler threw for a lot of yards, and I know they moved the ball rather easily against the Lions. I am more concerned with the offensive line. Cutler was too often running from a quickly collapsing pocket, and this week it will crumble even more quickly. Jay is great when he is on the move, and my hope is that they can neutralize that Dallas pass rush with a heavy dose of short passes to Greg Olsen, Matt Forte and Chester Taylor. Olsen will be the key here, and from what I have seen over his short career, he is not the guy I want my hopes hinging  on. Maybe he makes me a believer today.
Two: Tony Romo. Unlike last week, when the Bears were facing a rather stable QB, this week they are facing one who can really move. The Dallas O-line is healthier this week than last, and they have healthy size advantage over the Bears D-line. My worry is that even when they do get to Romo, he'll escape and make improvised big plays either with his feet, his arm or both. I really fear the Bears line will over pursue allowing Romo to do more damage out of the pocket than he might do in it.
I'm not going to rule out the Bears chances of winning today, but I only give them a slim shot and I believe a couple of things need to happen for the upset to become reality. First, Chicago will need to limit their turnovers to one or none. If they hand the ball over to Dallas like they did against Detroit the Cowboys won't be so forgiving. If Cutler has one of his multi-INT games, this will be a long day. Second, the Bears will need a big play on special teams. I don't care how it happens, whether it's a punt return, kick return, whatever, at least one momentum changing play like that could swing this game.
I'm rooting with the rest of Chicago for a 2-0 start, but am expecting a 1-1. Dallas 27 – Chicago 19
For More Great Chicago Sports Content
Follow us on Twitter at @chicitysports23 for more great content. We appreciate you taking time to read our articles. To interact more with our community and keep up to date on the latest in Chicago sports news, JOIN OUR FREE FACEBOOK GROUP by CLICKING HERE