The Chicago Bears got their man Thursday night. General manager Ryan Poles left little doubt to the media in his press conference after the first round was completed that the Bears had any interest in drafting another player with their first selection besides Darnell Wright. However, Poles understood the team's team's precarious situation in the second round Friday. Poles heavily suggested he would be in the business of looking for trade partners in the second round.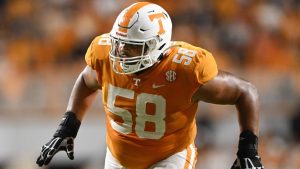 The Chicago Bears addressed a position of need
The Bears addressed a major area of need by drafting Wright, an All-SEC offensive tackle from Tennessee. Poles spent most of his press conference gushing over the Bears' newest player. But drafting Wright came at a high price for Chicago. The Bears passed on Jalen Carter when they traded the number nine overall pick to the Philadelphia Eagles. Carter was considered by most draft analysts to be a generational talent at defensive tackle. That's a position head coach Matt Eberflus has emphasized is the motor for his 4-3 defense.
Poles made the trade for a 2024 fourth-round pick. According to the NFL draft value chart, the difference between the nine and the tenth position is 50 points. Where the Eagles would have picked in the fourth round this year by virtue of going to the Super Bowl is only worth 39 points. So Poles essentially traded back to lose value unless the Eagles fail to make the playoffs this coming season. Poles was asked about passing on Carter, but he quickly dismissed any conversation on the most polarizing prospect in the draft.
Questions on Poles placing a ribbon on the best defensive prospect in the draft for the defending NFC Champion Eagles shouldn't be going away any time soon. As a reporter noted in the press conference, there was a run on defensive linemen at the end of the first round.
The Cincinnati Bengals, Kansas City Chiefs, and Eagles, all teams who made it to at least a conference championship game last season, took a defensive lineman in the first round. The Eagles and Chiefs did so while already having the best two best pass rushing defenses last season.
Ryan Poles hints at a trade up Friday
The Bears don't pick again until the 53 spot. That's 21 picks into the second round. Poles said the Bears have numbers on defensive lineman that should be available in the second round. He said in order to guarantee the Bears can land them, they might have to trade up.
"We feel confident that there's going to be opportunity there. We might have to manuver a little bit, and see what we can do." Poles said. "And I've seen that before where you try and move and you strike out, and the pairing doesn't make sense, and a guy or guys fall to you which is always a good experience. We might have to move a little bit and see what happens, but I feel pretty good about it."
Hopefully Poles will feel good about who he can take on Friday. The Bears desperately need defensive lineman. The quality of defensive lineman Poles has given Eberflus and his staff last season and through free agency this offseason have been subpar. Passing on Carter is another risk Poles has passed on to the coaching staff.
Now Poles must hope he doesn't have to give up too much value in the second round to take 3-tech or edge. He won't likely be offered the same sort of deal he gave to Eagles general manager Howie Roseman Thursday Night, when the Bears gave up draft capital to trade back for a player most draft analysts consider an inferior prospect.
For More Chicago Sports:
Follow me on Twitter at @JordanSig, and follow us @ChiCitySports23. You can also reach out to Jordan Sigler via email at [email protected]. To read more of our articles and keep up to date on the latest in ALL of Chicago sports, click here! Chicago Bears, Chicago Bulls, Chicago Cubs, Chicago White Sox, Chicago Blackhawks.
For More Great Chicago Sports Content
Follow us on Twitter at @chicitysports23 for more great content. We appreciate you taking time to read our articles. To interact more with our community and keep up to date on the latest in Chicago sports news, JOIN OUR FREE FACEBOOK GROUP by CLICKING HERE