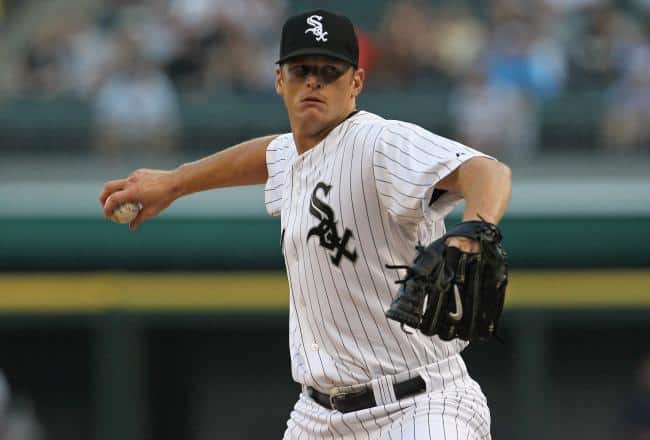 By Sean Bigness
ChiCitySports.com White Sox Writer
Gavin Floyd is set to make $9.5 million dollars this upcoming season when the Rich Hahn and the Sox decided to exercise his club option for the 2013 season.
Thing is, most speculate that the Sox did not exercise this option for the sake of using Floyd on their 2013 rotation, but instead to trade him. This claim has only been strengthened with the departure of long-time White Sox backstop AJ Pierzynski, and Robin Ventura's need of a left-handed bat to balance out a right-handed heavy lineup. Let's explore trade options that would make since to both the White Sox and their trade partners involved.
One of the teams that has been linked to Floyd before has been the Boston Red Sox. With their ability to absorb unheard of amounts of salary they could deal any one of their players no matter how uneven the cash flow may be and still be sound financially.
That being said the Red Sox are in sore need of starting pitching. Coming off of a second-to-last place finish in the AL East, the Red Sox will want to come back in 2013 with vengeance. With a vicious media and fan base in Boston calling for new players and massive improvement from the year before, Red Sox general manager Ben Cherington, needs to make a move. He could acquire Floyd from the White Sox by dipping into the Red Sox surplus of left-handed bats.
Red Sox catcher Jarrod Saltalamacchia is one option as the White Sox current starter Tyler Flowers has proven himself an inconsistent hitter in the limited action he has seen. Saltalamacchia would earn less money than Floyd in 2013, and with Saltalamacchia, as opposed to Flowers, you know what kind of production you are going to get; which is about twenty-five plus home runs, about seventy runs batted in, and around .300 on-base percentage. Unloading Saltalamacchia would clear up the current logjam the Red Sox have at catcher with new addition David Ross and prospect Ryan Lavarnway coming into the mix in 2013.
Assuming that manager Robin Ventura and current left-fielder Dayan Viciedo would be comfortable with a move to third base, Hahn and the White Sox could also take chance on soon-to-be thirty year old outfielder Daniel Nava. Nava, is a late bloomer who was able to get ample playing time last year when the Red Sox outfield was littered with injuries. Nava did well collecting walks in about 13% of his at-bats, compiling a .351 on-base percentage, and was a doubles machine.
And though Nava is older, he is not free-agency eligible until age thirty-six which I presume is when he would start to decline, and would no longer be of use to the White Sox. Again, Nava would come at a cheaper cost than Floyd but would also provide a left-handed balance to the White Sox lineup.
Moving on from the boys from Beantown, we still find ourselves in the AL East and move on the Baltimore Orioles, who seemed like they would be the suitor for Gavin Floyd. Well time has gone and Floyd is still a member of the Pale Hose and the Orioles are still searching for depth at starting pitcher.
Knowing that Gavin Floyd would probably not be able to bring back a top ten prospect, and not seeing any lefty bats at a position of need in the Orioles top twenty prospects I looked to their major-league outfield, and saw a very intriguing piece. Nate McLouth. McLouth is a reclamation project who came through down the stretch and into the playoffs for the O's. McClouth can also hit for decent power, and moving into a potent lineup like the White Sox would also give him more chances for RBIs.
I like this trade for the Sox as it would be an under the radar acquisition that could payoff big-time, and would allow them to have a more balance offense because McClouth isn't the same type of hitter as Adam Dunn, Paul Konerko, and Dayan Viciedo which is home run first, other hits later.
Heading over to the opposite league, and opposite coast, the Rockies are also a surprise contender to facilitate a trade for Floyd. The Rox are in dire need of veteran pitching with the likes of Drew Pomeranz, Christian Friedrich, and Juan Nicasio most likely taking starting spots in their rotation next year. Luckily for the Rox they also have a surplus of young, controllable lefty bats to offer Rick Hahn and the Sox.
The desirable target of any trade involving Floyd would be former Cubs prospect Tyler Colvin who raked in Colorado last year, dropping eighteen bombs, driving in seventy-two runs, and maintaining a .327 on-base percentage. Quite the impressive showing by the for the twenty-seven year old who won't be free agency eligible until 2017. The only downside would the transition period that almost every hitter going from the National League to the American League goes through.
Colvin, according to trends will have a down year, and would need to make major adjustments to his new park which will not carry baseballs as well, and Colvin would need adjust to the tougher pitching and competition of the AL. There is no guarantee Colvin could duplicate those numbers in the AL, but the potential that he could would make this trade worth it.
However there is a chance that Colvin would be too steep of a price for Rockies general manager Dan O'Dowd to pay, in that case I would hope the White Sox would ask for budding prospect Charlie Blackmon. Blackmon has seen very limited time in the major leagues, but his initial numbers are very promising as last year he accumulated a .283 batting average and also maintained a .325 on-base percentage in just a little over 100 at-bats. In addition, he showed power hitting two home runs and smashing 8 doubles.
With some seasoning Blackmon could be a very good two-hole hitter for the Sox, who desperately need someone who can move current lead-off man Alejandro De Aza around the base paths.
General manager Rick Hahn has options to deal Gavin Floyd. Though he wants to be patient and wait until John Danks is for 100% healthy, the time is now to trade Floyd before he potentially hurts his value anymore.
The above options are just a few of the many options that I thought of, others being Floyd for Kubel of the Diamondbacks and Floyd for the Blue Jays' Maicer Izturis. The key to this season will be how well the White Sox bats can keep up with the juggernauts in Motown, so the Sox must try to make a trade for an impact bat or else this might be another heartbreaking season for our South Siders.
For More Great Chicago Sports Content
Follow us on Twitter at @chicitysports23 for more great content. We appreciate you taking time to read our articles. To interact more with our community and keep up to date on the latest in Chicago sports news, JOIN OUR FREE FACEBOOK GROUP by CLICKING HERE