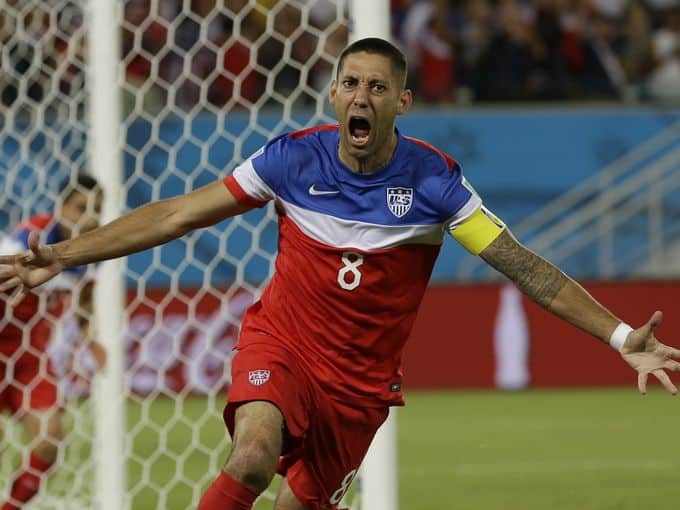 Although Mexico may be the United States' biggest rival in soccer, Ghana has become the team to beat come the World Cup.  In 2006, Ghana defeated the Americans 2-1 in the final match of the Group Stage to kill their hopes of advancing to the Round of 16.  The U.S. managed to make it there in 2010, only to be beat by Ghana in added extra time.
After having been eliminated by the African side in two straight World Cups, the Americans met with their nemesis in the opening match of the group stage Monday.
U.S. forward Clint Dempsey opened the scoring about 30 seconds into the match, slotting a shot past Ghana goalkeeper Adam Larsen Kwarasey that hit the goalpost and crossed the line.  The Ghanaians out-shot the Americans 21-8 in the match, but could not capitalize in the first half.
Entering the second half with a 1-0 advantage, the U.S. fended off the Ghanaian onslaught and cam within eight minutes of a clean sheet.  Andre Ayew finally broke through in the 82nd minute as the Ghanaian midfielder leveled the match.  As soon as the match appeared destined for a draw, American defender John Anthony Brooks scored off a header after U.S. and Sporting Kansas City midfielder Graham Zusi took the corner.  When the final whistle blew, the Americans walked off the pitch with their first win of the World Cup.  Defeating either Portugal or Germany would put the U.S. in good position to advance to the Round of 16.
The dramatic win did not come without a major loss, however, as forward Jozy Altidore was replaced by Aron Johannsson in the 23rd minute after an apparent hamstring injury.  Altidore's, a goalscorer the U.S. has relied on in past years, status for the remainder of the tournament is unknown.
The USMNT resumes World Cup play Sunday, June 22 against Portugal.  The game is set for a 5 p.m. CDT start and will be broadcast nationally on ESPN.  The Fire host the Pittsburgh Riverhounds in a U.S. Open Cup match at Toyota Park Wednesday, June 18, and do not resume league play until July 2.
For More Great Chicago Sports Content
Follow us on Twitter at @chicitysports23 for more great content. We appreciate you taking time to read our articles. To interact more with our community and keep up to date on the latest in Chicago sports news, JOIN OUR FREE FACEBOOK GROUP by CLICKING HERE