General manager Ryan Poles seemed enthusiastic Thursday evening when he met with reporters. He was happy with the Chicago Bears' first pick of the draft Darnell Wright. The offensive tackle made another player on the roster, quarterback Justin Fields, a very happy quarterback Thursday night. But not everyone in the locker room appears thrilled with the pick. There was some drama that broke out on Twitter not long after Wright was chosen.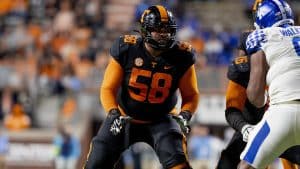 Several Bears fans and commentators are posting that Bears offensive tackle Larry Borom Tweeted "Lol" after the Bears chose Wright. The rumor is that Borom allegedly posted that in reference to the Bears choosing his replacement in the Tennessee offensive tackle.
Can't confirme because Larry Borom blocked me.

But apparently he's upset we got Darnell Wright.

Well make them pay for it son. pic.twitter.com/kwlhnrlTqV

— Max Markham (@MaxMarkhamNFL) April 28, 2023
Yo did larry borom tweet lmao n deleted it after 😂 #Bears

— Lee Cole (@LeeCole48) April 28, 2023
Borom has since deleted his tweet. His account is now protected, and the general public is unable to access Borom's Tweets. Borom blocked some fans and commentators after last night's post. Many Bears fans on Twitter are suggesting Wright will usurp Borom's spot on the depth chart for this coming season. This is the second storyline in a few days of drama visiting the Bears' offense, as reports came out on friction between tight end Cole Kmet and Fields over offensive production.
Chicago Bears fans react to the drama on Twitter
Bears fans posted about Borom's "meltdown" Thursday night and Friday morning. Here are the best takes of drama coming to the Bears' locker room.
Damn he blocked me too… WTF I DO??? https://t.co/jKsvulXI5m

— Erik Ritchey (@erikritch) April 28, 2023
Larry borom is such a baby. Lmfao lost his job and is now being a crabby pants 😂 pic.twitter.com/tfXJ3Dmv8t

— StaceyKingFanpage (@StaceyKingGOAT) April 28, 2023
borom just tweet Lol so i think he knows he just got replaced

— Roberto Antonio Consuelo (@kimba23455) April 28, 2023
That Larry Borom tweet and delete is exactly why this team needed to get someone else in here. I got zero faith in him, ole boy from the raiders or anyone else to hold it down.

— Demarco (@demarco_82) April 28, 2023
Larry Borom tweeting like a sucka.

— 💫💥Real Essex Veteran🏁🏁 (@nolimit_bj078) April 28, 2023
The audacity of Larry Borom 😂

— PutMeOnBlast 🇲🇽 (@YungBlastro) April 28, 2023
Ah apparently Larry Borom might not have liked the Darnell Wright pick Right after the Bears pick guess he tweeted "LOL!" then deleted it right away per ESPN 1000 #Bears

— Cloudy Future (@CloudyFuture) April 28, 2023
Larry Borom pissed ! 😂😂😂 https://t.co/JbDDnSy9pI

— DC Willie b. Mackin (@Iam_CubanPete) April 28, 2023
For More Chicago Sports:
Follow me on Twitter at @JordanSig, and follow us @ChiCitySports23. You can also reach out to Jordan Sigler via email at [email protected]. To read more of our articles and keep up to date on the latest in ALL of Chicago sports, click here! Chicago Bears, Chicago Bulls, Chicago Cubs, Chicago White Sox, Chicago Blackhawks.
For More Great Chicago Sports Content
Follow us on Twitter at @chicitysports23 for more great content. We appreciate you taking time to read our articles. To interact more with our community and keep up to date on the latest in Chicago sports news, JOIN OUR FREE FACEBOOK GROUP by CLICKING HERE