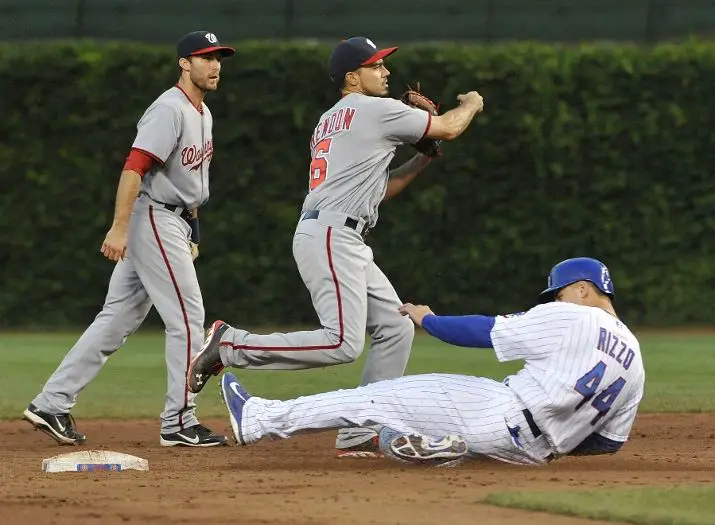 Apparently a two-hour rain delay wasn't ample time for the Cubs Thursday. They felt the need to stretch it even longer, 13 innings to be exact, before they decided to call it quits.
After the storm clouds parted, Ryan Zimmerman started things off for Washington when he homered to right-center in the 1st. Stephen Strasburg helped himself an inning later when he hit an RBI single to center to plate Tyler Moore. Steve Lombardozzi, who moved up to third, scored on a sacrifice fly from Anthony Rendon.
Lombardozzi showed up again in the 7th, hitting one into the seats in left. Travis Wood would exit shortly after that going 6 2/3 allowing 4 runs over 7 hits.
Meanwhile, Strasburg had the Cubs lineup mesmorized with his curveball. It wasn't until the 8th that we saw any sign of life. Brian Bogusevic took the Washington starter yard and that alone must have rattled him enough. When taking the mound to earn a complete game in the 9th, Strasburg cracked and things suddenly got interesting.
Down to their final out and with Schierholtz at second, Junior Lake earned an RBI infield single off of a throwing error from Rendon at shortstop. With Lake on and with one swing, Donnie Murphy quickly made it a tie ball game. His 8th homerun in 16 games sent Strasburg packing and the two teams into extras.
As the sun set, Blake Parker, Pedro Strop, and Kevin Gregg kept the Cubs in it. They each pitched a scoreless inning, Carlos Villanueva threw two.
Michael Bowden would draw the short end of the stick to pitch in the 13th. He took the loss after allowing Denard Span to make it home on a soft groundout from Chad Tracy that Bowden fielded himself.
The Cubs would attempt to rally once again in the bottom of that inning, catching luck with a throwing error from Lombardozzi and a missed tag. With Anthony Rizzo at first, Dioner Navarro was robbed up the middle when pitcher Drew Storen was able to put a stop and begin the game ending double play.
Chicago has had a homestand at 2-10 that they would like to forget. They'll hope for better things to come on the road as they begin a six game trip to California, first stop San Diego. The Cubs and Padres will face off tomorrow at 9:10pm CST when Edwin Jackson (7-13, 4.89) will see Edinson Volquez (9-10, 5.72).
For More Great Chicago Sports Content
Follow us on Twitter at @chicitysports23 for more great content. We appreciate you taking time to read our articles. To interact more with our community and keep up to date on the latest in Chicago sports news, JOIN OUR FREE FACEBOOK GROUP by CLICKING HERE