Disclaimer: I did not watch this game. As epic as these Big Ten – Sunbelt early-season matchups can be, the wedding of some good friends took precedence. If I were you, I might be inclined to pursue some commentary from people who were actually there, but, nonetheless, I invite you to stick around and read on; there's a convenient 'comments' section where you can tell me how misguided I am.
Top Performers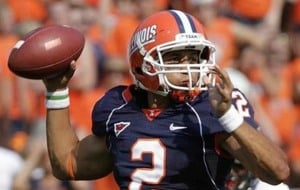 Nathan Scheelhaase: 16 for 23, 268 yards (career high), 2 TD, 0 INT
Jason Ford: 22 carries, 86 yards, 2 TD
A.J. Jenkins: 11 receptions (career high), 148 yards (career high), 1 TD
Darius Millines: 5 receptions (career high), 119 yards (career high), 1 TD
Houston Bates: 5 tackles, 2 for loss, 1 sack, 1 fumble recovery (named Big Ten Freshman of the Week)
Trulon Henry: 8 tackles, 1 INT
Oddities
While I was at the wedding reception, I checked the box score every 20 minutes or so – the game was already in hand, but I figured the young guys might be getting some garbage minutes, and I was curious to see what kind of impact Young and Ferguson might have been making. And that's when I saw this…O'Toole, R. 1/2, 4 YDS. I'm thankful I was in a setting where throwing my phone across the room like a frisbee would have been frowned upon, otherwise, I'd be having an interesting conversation with an AppleCare representative right about now. Why burn his redshirt? In all likelihood, Scheelhaase will be the unequivocal starter through the 2013 season, leaving just one year for O'Toole to be the guy. According to Zook, getting him into the game was part of the plan. "We're going to get Reilly onto the field as much as we can. I'm concerned about winning games right now. I don't want guys to want to redshirt. Sometimes, the quarterback spot is a little bit different. You want guys that expect to come in here to play. He's earned that opportunity." I don't get it.
Scheelhaase set a career high for passing yards…and completed passes to just two receivers (Jenkins and Millines). Having not watched the game, I assumed he had targeted more players than just Jenkins and Millines, but that those were the only two to tally completions. I read the play-by-play (which, I assure you, is much less enjoyable than watching the game), and, as it turns out, Scheelhaase likes Jenkins a lot. Of Scheelhaase's 23 attempts, 14 went to Jenkins (61%), 6 to Millines (26%), 2 to Lankford (9%), and 1 to Harris (4%). On the one hand, it's nice to see a concerted effort being made to get the ball to our best receiver – watching an apparent unwillingness to get the ball to Arrelious Benn for three seasons was quite frustrating. But you have to believe teams will do whatever they can to take Jenkins out of the equation, and Scheelhaase will need to be able to trust some other guys when A.J. isn't open.
Favorite Quote
"I'm the best receiver in the Big Ten because I work harder than the receivers out there. I have the best coach, the best quarterback, the best linemen, and the best sidekick. Having the best things around me makes me the best receiver in the Big Ten."
– A.J. Jenkins
Yes, it's a very loose translation of "best," but I like the confidence.
Big Picture
Regardless of their slow start on Saturday, the Illini sit at 1-0 for the first time since 2006, just 5 wins shy of bowl eligibility (because this is how we think as Illini fans). Scheelhaase showed an ability to pass the ball when opponents decide to stack the box, and Petrino displayed a willingness to adjust his game plan. The defense is still a huge question mark, and we probably won't know more until the competition gets a little more arduous.
For More Great Chicago Sports Content
Follow us on Twitter at @chicitysports23 for more great content. We appreciate you taking time to read our articles. To interact more with our community and keep up to date on the latest in Chicago sports news, JOIN OUR FREE FACEBOOK GROUP by CLICKING HERE