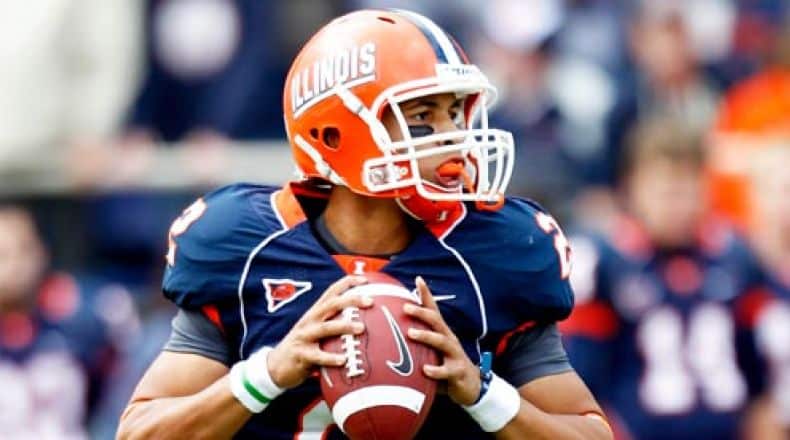 November 24th. That was the last time the Fighting Illini took the field in a 50-14 blowout at in-state rival Northwestern. The loss in Evanston served as an almost redundant reminder of a failed season and sealed up a winless Big Ten slate for Illinois.
In reality the Illini's season was lost far before that Northwestern game.
On August 31st, over nine months since their disastrous season came to an end, Illinois will show whether they're a different team when they face off against Southern Illinois.
The Salukis come out of the Missouri Valley Conference and are an FCS school. Illinois is 12-0 all-time against FCS teams with an average margin of victory of 30 points per game—so for a change, the Illini will be favored.
The 2-10 moniker has followed Illinois around ever since the Northwestern game. A win this Saturday won't make fans soon forget the lost season. The Illini's offense under new offensive coordinator Bill Cubit won't turn into Oregon's Quack Attack after just one game, but Saturday could show us a glimpse of what Illinois has done the past nine months.
"You want to see how far this team has grown. That's all going to be shown with what we do on Saturday at 11 o'clock." second year coach Tim Beckman said. "What our players have shown us has been huge. From classroom to discipline to being involved in this community, it's leaps and bounds from what it was before. So now it's time to translate that on the football field."
The Illini will need to show off some new tricks on offense after finishing 122nd in the nation in scoring last season. Illinois returns eight starters on offense: OL Simon Cvijanovic, OL Michael Heitz, OL Ted Karras, WR Ryan Lankford, WR Spencer Harris, QB Nathan Scheelhaase, RB Donovonn Young and the TE tandem of Evan Wilson and Jon Davis.
The familiar faces on offense is a huge benefit for the Illini, but some of those same players who struggled last season will be called upon to step it up this time.
To say Scheelhaase is paramount to this team's success would be an understatement.
Scheelhaase enters Saturday's contest with 36 career starts, tied for third-most among active FBS quarterbacks.
The Illini have won 15 games with Scheelhaase at quarterback since the beginning of the 2010 season. Scheelhaase has completed 199-of-298 passes (66.8%) for 2,553 yards, 22 TDs and six INTs for a 159.1 efficiency rating and has rushed for 980 yards on 210 carries (4.7 ypc) and seven TDs in those 15 games.
In comparison, Scheelhaase is 289-of-503 (57.3 percent) for 2,745 yards, 12 TDs and 18 INTs for a 104.0 rating in the Illini's 21 losses during that span.
Cubit has tailored the offense around Scheelhaase to ensure his quarterback feels at home.
"Well you gotta make [Scheelhaase] feel comfortable," Cubit said. "During practice you're gonna practice those plays so well that he's gonna be comfortable and then by the end of the week if you don't like it you throw it out."
Illinois returns only four starters on defense: DE Tim Kynard, LB Jonathan Brown, LB Mason Monheim and safety Earnest Thomas III, but they still have some big play makers.
Linebackers Brown and Monheim are the anchors to the Fighting Illini defense.
Over the past two seasons, Brown has 167 tackles, 29 TFls and 8.5 sacks and he is a member of the preseason watch lists for the Butkus Award, the Bendarik Award, and the Naugrski Trophy.
Monheim was a 2012 Freshman All-American and he was the first true-freshmen in Illini history to lead the team in tackles.
Much like Scheelhaase on offense, the play of Brown and Monheim will determine the team's fate.
With a rough Big Ten slate down the road, every non-conference game will be vital. The motivation this season for the Illini will be to clinch another bowl game, which would be their third bowl game in the last four years. The last time Illinois had a stretch like that was from 1991-94.
"It's a great chance at redemption for us," Scheelhaase said. "That's something that we've thought about so much. Obviously last season didn't go the way we wanted it to and we've had to build momentum and build something to be confident about in different ways and that's about the work we put in the offseason."
Scheelhaase isn't the only player on offense looking to forget about last season.
Junior running back Donovonn Young, who led the team with 571 rush yards and 38 receptions for 172 yards last season, plans to make more "north to south" runs and will try to not always look for the big play.
Young already claims he is a smarter player. Saturday he will have the chance to back that up.
"I don't even think guys will wanna talk about last year after Saturday," Young said. "Saturday's gonna be a big day for the team and it's gonna be a true testament for how hard we've worked and how we focus on the little things and how we put last year behind us."
A win against Southern Illinois might not immediately uplift fans or change anyone's preseason Big Ten predictions.  Still, the Illini are hungry for a win that they haven't felt since September 15th of last year against Charleston Southern—another FCS school.
Coach Beckman stopped short of guaranteeing a victory, but he believes in his players.
"I can tell you this: when we run out there on that football field and they touch Grange Rock, we know that they're going to give everything they've got."