We all knew James Harden wanted out of Philadelphia. Still, his latest screed against the 76ers management had Chicago Bulls fans talking about a potential trade this offseason to the Windy City.
Harden has wanted to be traded from the 76ers since early this summer. The Los Angeles Clippers were his preferred destination. Harden's name has also been linked to the Bulls.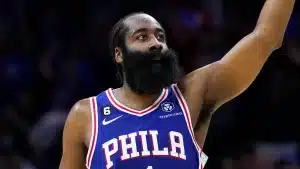 Per Steve Gardner with USA Today, Harden's deteriorating relationship with the 76ers front office, specifically president of basketball operations Daryl Morey, escalated this weekend. Harden called Morey a "liar":
Speaking at an Adidas press event in China over the weekend, Harden blasted Sixers president of basketball operations Daryl Morey, who reportedly has shut down trade talks involving the 10-time All-Star in hopes of having him return to the team.

When asked about the situation, former league MVP didn't mince words: "Daryl Morey is a liar and I will never be a part of an organization that he's a part of. Let me say that again: Daryl Morey is a liar and I will never be a part of an organization that he's a part of."
Harden is putting the 76ers front office in a bind. The 76ers will likely have to trade Harden. And Harden's antics aren't making NBA teams want to overpay in a trade. The 33-year-old star wants to play for his third team since 2021.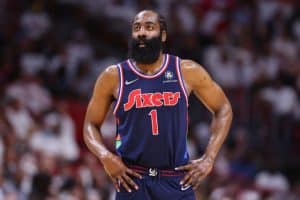 Chicago Bulls fans react to James Harden's comments
The Bulls are a potential destination for Harden. Many Bulls fans have strong opinions about whether or not the team should try and trade for Harden. Here are the best takes on Bulls fans debating a potential blockbuster trade with the 76ers.
Does James Harden make the Chicago Bulls a title contender?

The answer to that question? NO.

I'm good on that.

— Buzz (@BuzzOnTap) August 14, 2023
The hilarious part about all of this is I'm not a LaVine fan, but I hate James Harden waaaay more and I would never want them to trade for him. But objectively, James Harden is a former MVP that's still producing & saying the Bulls wouldn't even look at it?! Crazy talk.

— Brandon Pence (@thebullscharge) August 14, 2023
I'm telling you guys, James Harden for DeMar DeRozan makes TOO much sense for both sides pic.twitter.com/3ryRim23Z3

— ChicagoBullsCentral (@BullsCentraI) August 14, 2023
james harden you are a chicago bull

— sad bulls fan (@unhappybullsfan) August 14, 2023
Why do many Bulls fans want to trade for James Harden at this point in his career? I don't get it…

— The Sports Page Blog (@sportspageblg) August 14, 2023
Good morning #BullsNation

If reckless emotion was the EVP of Chicago Bulls Basketball Operations, this would be the #Bulls '23-'24 starting lineup:

C: Rudy Gobert
F: Ben Simmons
F: Tobias Harris
G: James Harden
G: Dillon Brooks pic.twitter.com/OlCQfukVaB

— Morris Bankston (@mobanks10) August 15, 2023
Bulls fan base would destroy james harden. He's not built for chicago

— Coach K 🏀 (@Hollywood_TR3) August 14, 2023
James Harden, you are a Chicago Bull

— christan (no i), ß (@Snacks4Tweets) August 14, 2023
For More Chicago Sports:
Follow me on Twitter at @JordanSig, and follow us @ChiCitySports23. You can also reach out to Jordan Sigler via email at jordanmsigler@gmail.com. To read more of our articles and keep up to date on the latest in ALL of Chicago sports, click here! Chicago Bears, Chicago Bulls, Chicago Cubs, Chicago White Sox, Chicago Blackhawks.
For More Great Chicago Sports Content
Follow us on Twitter at @chicitysports23 for more great content. We appreciate you taking time to read our articles. To interact more with our community and keep up to date on the latest in Chicago sports news, JOIN OUR FREE FACEBOOK GROUP by CLICKING HERE