The Chicago Bulls have been rumored to have several high-profile options to pursue at point guard this offseason. DeMar DeRozan's trainer offered an insider's look at another option that might fit Bulls president of basketball operations, Artūras Karnišovas, type of player.
The Chicago Bulls need to change something in the lineup
Karnišovas doesn't want to tinker much with the starting lineup. He's made it clear the Bulls have enough talent with their core group of players they should be competing in the playoffs. The Bulls were a Max Strus flukey half away from beating the team that made it to the NBA Finals in the play-in game.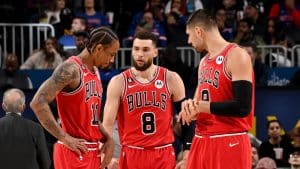 There's one glaring problem with the roster this summer–point guard. Lonzo Ball is likely going to miss next season–if he ever returns. The Bulls were more competitive with Patrick Beverley this spring, but the team may not re-sign him. Chris Paul is another option following Wednesday's release report, but the Bulls will face heavy league competition to sign him.
Coby White about to make a jump?
DeRozan's trainer dropped another player that could be an All-Star talent available for the Bulls next season. Johnny Stephene, an NBA skills coach who has been training with Coby White this spring on ball handling, praised the 23-year-old point guard. Stephene posted a message on their Instagram stating White would play at an All-Star level next season:
"Coby White is putting in the WORK this summer 🔥 one of the most underrated players in the NBA. All-star season incoming ‼️," Stephene wrote.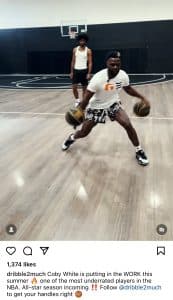 White is a restricted free agent this offseason. The Bulls must decide where he fits in the team's long-term plans. White has played inconsistently during his time in Chicago. But White can be dangerous when he gets on a hot streak. He's probably played well enough for the Bulls to extend his contract this summer.
Hopefully, White's training with Stephene is productive. I seriously doubt White will go from bench player to All-Star in one offseason. I'd be happy if White were to win the starting job for the Bulls as a first step this season. He has the talent and was recently listed as a player that has the potential to break out on another NBA team. Let's hope he breaks out–and for the Bulls.
For More Chicago Sports:
Follow me on Twitter at @JordanSig, and follow us @ChiCitySports23. You can also reach out to Jordan Sigler via email at jordanmsigler@gmail.com. To read more of our articles and keep up to date on the latest in ALL of Chicago sports, click here! Chicago Bears, Chicago Bulls, Chicago Cubs, Chicago White Sox, Chicago Blackhawks.
For More Great Chicago Sports Content
Follow us on Twitter at @chicitysports23 for more great content. We appreciate you taking time to read our articles. To interact more with our community and keep up to date on the latest in Chicago sports news, JOIN OUR FREE FACEBOOK GROUP by CLICKING HERE