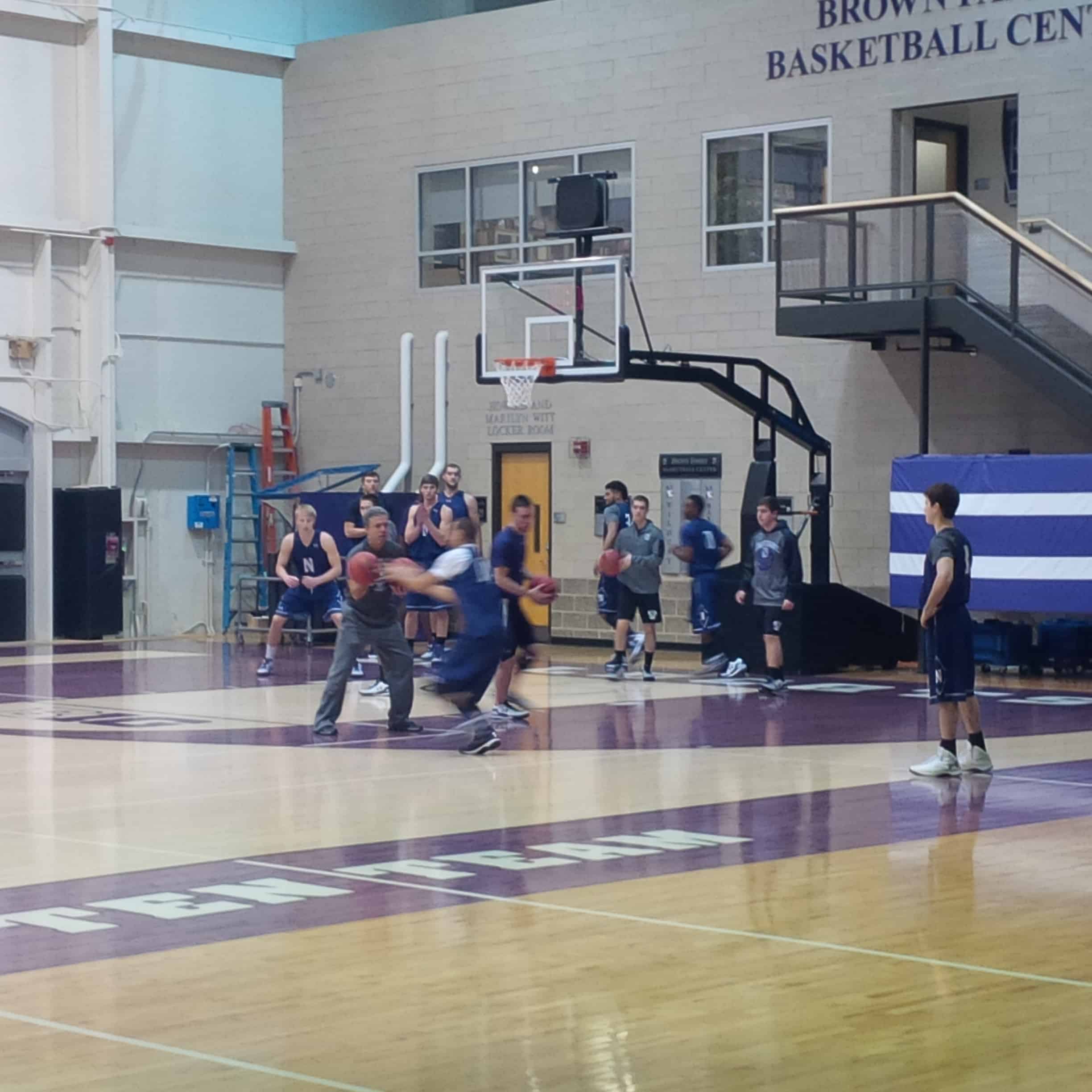 EVANSTON-It is definitely a new year, a new day, and a new era for the Northwestern Wildcats men's basketball program. Head coach Chris Collins promised improvement in year two, and even though we're only a week into the season, so far improvement is exactly what we've seen. Northwestern is 2-0 to start the season for the first time since the 2012-2013 campaign when they began the season at 5-0.
They're averaging 67 points per game, they look faster on the court, they play with more tempo and energy, and they're more fundamentally sound on both ends of the floor. Plus the addition of the new freshman class,  along with the added depth on the roster has made the teams transition a lot easier. One of the most visible improvements with the Wildcats has been seen in junior center Alex Olah.
After just two games -at home against Houston Baptist and at Brown– Olah is already the Cats' leading scorer (12.5 points per game), leading shot blocker (2.0 blocks per game), and second leading rebounder (7.0 rebounds per game). During his time at NU, the Romanian native has seen his numbers progress (albeit slowly) every year that he's worn the white and purple uniforms.
His freshman year he averaged 6.1 points and 4.1 rebounds per contest. Then last year his averages increased to 9.1 points and 5.2 rebounds. The type of numbers that he's putting up now are exactly the type of numbers that the Wildcat faithful have been waiting for. His assertiveness and aggressiveness are major factors in his progression. And now that he's an upperclassman, Olah knows that he needs to take his game to the next level.
"I'm a junior now and I have to step up" Olah said before Wednesday's practice. He added, "I have to be a leader on the court."
So far the 21-year-old has done just that. He's also become more physical in the post, and has improved drastically on defense. Olah credits these positive changes to his offseason workouts. "I worked on my conditioning a lot" Olah said noting that he's down to 260 pounds now. "I lost a lot of fat and I gained muscle, (I had) a bunch of individual workouts with (assistant) coach (Brian) James, (I also) worked on my rebounding and free throws…." he elaborated.
So far all of the hard work has paid off as Olah has totaled 25 points, 14 rebounds and 4 blocks after just two games. But the big man knows that the "Cardiac Cats" have a long way to go. "We still have to work, we watch film (after every game), and we learn from everything" Olah said. He also says that the addition of freshman power forward Vic Law has helped him tremendously. The 6-foot-7 St. Rita product -who's averaging eight points and six rebounds per game- has made it easier for Olah to move around in the paint, and takes pressure off of him defensively.
"(He) definitely (helps). We push each other in practice, and he rebounds the ball which makes everyone's job a little easier. Just to know that we have another scoring guy in the offense helps us a lot, it's a huge boost of confidence for us" Olah said about  the top-75 recruit.
But at the end of the day, Olah knows it will take a team effort to get the Wildcats to the postseason. " We still have to work on our game, you never stop improving" Olah said. Hopefully now the Wildcats have all of the firepower that they need. Follow me on Twitter @GabeSalgado82
For More Great Chicago Sports Content
Follow us on Twitter at @chicitysports23 for more great content. We appreciate you taking time to read our articles. To interact more with our community and keep up to date on the latest in Chicago sports news, JOIN OUR FREE FACEBOOK GROUP by CLICKING HERE