Patrick Mahomes made an eye-opening comment about what could have been if he were drafted to another team besides the Kansas City Chiefs. They appear to be a shot at the Chicago Bears.
Did Patrick Mahomes take a veiled shot at the Chicago Bears?
Mahomes was a guest recently on the AP Pro Football Podcast with Rob Maaddi. Mahomes credited Chiefs head coach Andy Reid with being a great coach and allowing him the freedom to take chances that make the defending NFL MVP the special player he is on Sundays:
"[Reid] lets me be who I am every single day. I think if I'd have went to some other places, I would've had to learn how to play the quarterback position a different way, and he just lets me play the quarterback position the way that I want to play it. I think that's what's made me such a different type of quarterback in this league."
Would Patrick Mahomes have succeeded with the Chicago Bears?
It's hard for a Bears fan not to read that and think Mahomes isn't talking about the Bears when he mentions "some other places" he could have been drafted to. Mahomes wanted the Bears to draft him and believed they would do so before then-general manager Ryan Pace traded up for Mitch Trubisky.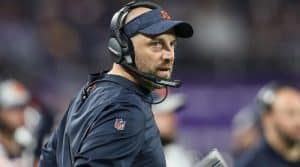 Many fans in Chicago think Mahomes could have turned into a bust with the Bears. I don't think that's possible. However, he might not have become as effective as he is now if John Fox's staff or the next staff, including Matt Nagy, if the Bears still chose to hire him with Mahomes on the roster, had put tighter reigns on Mahomes' style.
Nagy didn't have the final style on Mahomes' play in Kansas City. So while Nagy liked Mahomes for the Chiefs in the 2017 draft, he could have still ruined Mahomes with the Bears. Nagy tried to turn Trubisky and Justin Fields into something they weren't, which is why he's no longer the head coach of the Bears.
Luke Getsy needs to take notes from Mahomes for Justin Fields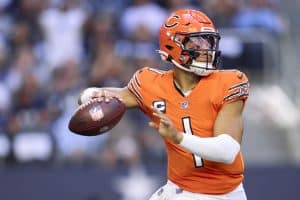 Mahomes' statement should be a wake-up call for the current Bears coaching staff with Fields. Offensive coordinator Luke Getsy's offense struggled early last season until they gave Fields more freedom. But even toward the end of the season, one could see the team holding him back.
The second half of the Bears' Week 13 loss to the Green Bay Packers is a perfect example of Getsy screwing with the offense's momentum.
Fields isn't Mahomes. But I believe he is a special talent who should be allowed to play the quarterback position differently than a traditional Justin Herbert or Tua Tagovailoa-like player. He has special skills, and he needs to use those skills to be an effective passer and offensive leader.
Imagine Mahomes being asked to hand the ball off on first and second down before being forced to stay in the pocket on third down. That's 100 percent what would have happened under a few regimes we've seen in Chicago.
For More Chicago Sports:
Follow me on Twitter at @JordanSig, and follow us @ChiCitySports23. You can also reach out to Jordan Sigler via email at jordanmsigler@gmail.com. To read more of our articles and keep up to date on the latest in ALL of Chicago sports, click here! Chicago Bears, Chicago Bulls, Chicago Cubs, Chicago White Sox, Chicago Blackhawks.
For More Great Chicago Sports Content
Follow us on Twitter at @chicitysports23 for more great content. We appreciate you taking time to read our articles. To interact more with our community and keep up to date on the latest in Chicago sports news, JOIN OUR FREE FACEBOOK GROUP by CLICKING HERE