Ryan Poles could shut down Justin Fields
General manager Ryan Poles has some big decisions to make this week. The Chicago Bears are 3-13 before playing the Minnesota Vikings in Week 18. With a roster full of injured starters, who would be backups on most teams, there isn't much to evaluate Sunday. Winning the game won't do anything positive for the Bears. But losing the game can secure a higher draft position.
According to multiple reports, head coach Matt Eberflus said the Bears would meet and talk about potentially sitting some players against the Vikings, including quarterback Justin Fields. Eberflus commented after the Detroit Lions game Sunday that Fields would play against the Vikings. But it appears Poles is looking to shut things down. Eberflus isn't really in charge of the Week 18 Bears.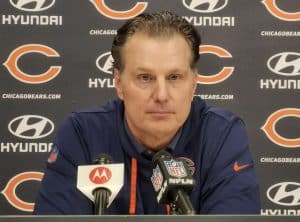 According to Courtney Cronin with ESPN, Eberflus acknowledged the Bears are in a "different" place than they were two weeks ago:
"I would just say (there are) on going conversations about everybody. About everybody, what we need to do, what's the best interest for our football team going forward. That conversation, we're going to have that all the way through Wednesday, all the way through Friday and we'll decide as we go"
Postgame in Detroit, Matt Eberflus said if Justin Fields is healthy for Week 18, that he would play. Eberflus seemed to hedge on that a bit today, noting that conversations with GM Ryan Poles would take place this week around everyone – QB included – to see who'll play vs. MIN.

— Courtney Cronin (@CourtneyRCronin) January 2, 2023
Eberflus: "I would just say that the health of our football team is important. That ties into everybody. We're going to look at everybody on our football team and making sure we're doing what's best for the Bears."

— Courtney Cronin (@CourtneyRCronin) January 2, 2023
"team to me is…where we were two weeks ago is different than where we are now. So I think it's important that we evaluate that."

— Courtney Cronin (@CourtneyRCronin) January 2, 2023
This development is a crock from Ryan Poles. The Bears have had nothing to play for since Fields injured his shoulder against the Atlanta Falcons in Week 11. There was no reason for Fields to suit up against great pass-rushing teams like the Philadelphia Eagles and Buffalo Bills.
Fields can break the rushing record against the Vikings
Fields is 64 yards away from breaking Lamar Jackson's single-season quarterback rushing record. After the complete sham of an offense he had Fields play with this season after choosing defense with his second-round picks, the least Poles can do is allow Fields the opportunity to break the record, if he wants, and then be pulled.
It's more than just prestige on the line for Fields. Fields risked his body this season for the Bears' rebuild. He deserves the chance to break the record to earn clout for future bargaining in contract negotiations. But then again, screwing a Bears star out of a better contract might earn Poles favor with the Bears' upper management.
For More Great Chicago Sports Content
Follow us on Twitter at @chicitysports23 for more great content. We appreciate you taking time to read our articles. To interact more with our community and keep up to date on the latest in Chicago sports news, JOIN OUR FREE FACEBOOK GROUP by CLICKING HERE