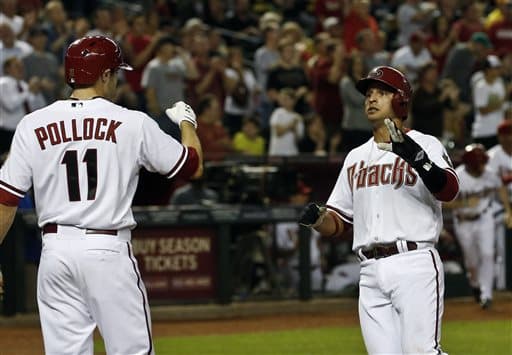 Travis Wood was in rare form tonight as his start proved not to be his best against some hefty Arizona bats. The Diamondbacks tallied 10 runs on 14 hits against the Cubs' staff to assist in Patrick Corbin's twelfth win on the year.
Corbin tossed a quality outing despite the third inning in which the Cubs would strike first. Anthony Rizzo singled to center scoring Wood from second, whom also snagged a base hit for himself. However, the Cubs would leave two on as Corbin would get both Alfonso Soriano and Cody Ransom called out on strikes to end it.
Upon Ransom's K, he flipped his bat, helmet and batting gloves in disagreement with the call. As home plate Umpire Dana DeMuth continued to watch Ransom, Dale Sveum would have a word from the dugout. DeMuth ejected the skipper causing him to approach the field and argue the ejection. The discussion ended in laughter despite that being Sveum's fourth ejection on the season.
Arizona tied it up against Wood in the fifth when Martin Prado homered to left (9) and took the lead in the sixth when A.J. Pollock doubled to left scoring Adam Eaton from first. Wood began to lose his command, walking Paul Goldschmidt and allowing a triple to Eric Chavez who would score Pollock. He then walked Martin Prado and gave up a single to Wil Nieves which scored Chavez to make it 4-1. Wood was pulled right then after 5 2/3 earning 2 walks, 8 hits and 4 runs to his name.
More damage was incurred when Hector Rondon took over for Matt Guerrier to start the bottom of the seventh. He allowed a double and two walks before Chavez would single to left scoring two. Prado would follow the same suit and add another to make it 7-1. Relief wasn't quite in sight as Michael Bowden allowed 3 more to score in the eighth on a triple from Pollock and a double from Goldschmidt.
The Cubs would tack on a few more courtesy of Nate Schierholtz, who homered to right off of David Hernandez scoring Soriano in the eighth. In the ninth against closer Tony Sipp, Junior Lake would continue his phenomenal start (12-for-22) earning his third hit of the night, and second homerun in as many days.
Cubs look for more of those bright spots and less struggles when they see Arizona for game three tomorrow evening. It'll be Jeff Samardzija (6-9, 3.91) and Ian Kennedy (3-7, 5.29) at 8:40 pm CST.
For More Great Chicago Sports Content
Follow us on Twitter at @chicitysports23 for more great content. We appreciate you taking time to read our articles. To interact more with our community and keep up to date on the latest in Chicago sports news, JOIN OUR FREE FACEBOOK GROUP by CLICKING HERE