Margins are very small in the NFL. For a Chicago Bears team trying to turn around a 3-14 season in 2022, even the smallest of differences could make their season in 2023. The Bears' schedule was released Thursday evening, and one game in December has presented the team with a more challenging matchup than it would have been earlier in the season.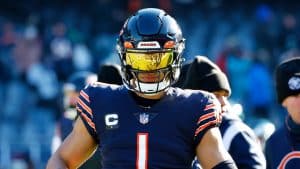 The Chicago Bears' opponent on Christmas Eve is dangerous
The Bears will play the Arizona Cardinals at home on Christmas Eve. While the cold weather at Soldier Field could affect the visiting team, who plays in a dome in Phoenix, the Cardinals are expected to have their most important player back for that matchup.
Kyler Murray suffered a torn ACL last season. He's not expected to be back until possibly the second half of the season, per a report by Ian Rapoport with the NFL Network:
"My understanding is he is going to take his time and make sure this thing is 100 percent right," Rapoport reported. "He is young. He's got a long career. He's not going to rush, so do not be surprised if we don't see him to start the season or maybe even by the midway point. This injury has to heal perfectly."
The Bears will have to face one of the most dangerous quarterbacks in the NFC in Murray. He's a two-time Pro Bowl quarterback, and the mobile Murray can do a lot of danger to a Bears defense that hasn't yet taken care of their pass rush.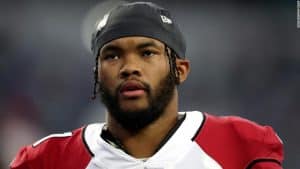 With the improvements the Bears have made this offseason, they could be on the cusp of making a Wild Card Spot this year. The late December game with the Cardinals could play a major factor in the Bears' eligibility for the postseason.
It's the Bears' unfortunate luck they'll be set to face Murray instead of backup quarterback Colt McCoy, who is expected to start until their Pro Bowl leader returns. The Bears will have to face an adversity many of their NFC opponents won't in a quest to make the playoffs this year. It probably wasn't a biased decision, but it'll feel like that if this loss keeps the Bears out.
For More Chicago Sports:
Follow me on Twitter at @JordanSig, and follow us @ChiCitySports23. You can also reach out to Jordan Sigler via email at jordanmsigler@gmail.com. To read more of our articles and keep up to date on the latest in ALL of Chicago sports, click here! Chicago Bears, Chicago Bulls, Chicago Cubs, Chicago White Sox, Chicago Blackhawks.
For More Great Chicago Sports Content
Follow us on Twitter at @chicitysports23 for more great content. We appreciate you taking time to read our articles. To interact more with our community and keep up to date on the latest in Chicago sports news, JOIN OUR FREE FACEBOOK GROUP by CLICKING HERE