The Chicago Bears held their first joint practice of the preseason with the Indianapolis Colts Wednesday. It was the first joint practice the Bears have had under head coach Matt Eberflus. Eberflus declined to participate in joint practices with the Bears in his inaugural year with the team.
Joint practices are arguably more important for starting players than the preseason. Coaches are more willing to use their schemes during those practices than during televised preseason games.
The Bears had a solid outing against the Colts during their first joint practice Wednesday. They'll have round two Thursday. Here are the key takeaways from the Bears-Colts joint practice.
1. Braxton Jones had a hard time Wednesday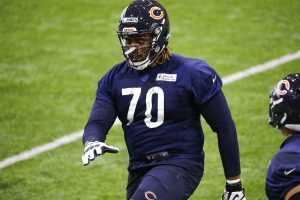 The Bears need left tackle Braxton Jones to improve his play in pass protection this season. He performed his duties as a fifth-round rookie well. However, the Bears have higher expectations for him this season.
According to Josh Schrock with NBC Sports, quarterback Justin Fields repeatedly felt pressure from the left side. And many f those pressures came from Jones' assignment.
"The drive started with Fields getting flushed with pressure from his left and scampering for a gain of 7. Fields then hit Kmet for a short gain and a first down. A Khalil Herbert run for no gain on first down put the Bears' offense behind the sticks. On second-and-10, Colts defensive end Kwity Paye quickly blew past Braxton Jones to "sack" Fields and set up third-and-long…

On fourth down, Fields felt pressure to his left and rolled right. While he might have been able to pick up the first down with his legs, Fields kept his eyes downfield and threw off his back foot while fading out of bounds in the direction of Darnell Mooney…

In a later 11-on-11 drill, Fields was pressured by defensive end Titus Leo, who beat Jones off the left side. Fields stepped up and looked deep for Mooney. But Fields' elbow was hit as he threw, causing the ball to come out wobbly and be picked off by safety Rodney Thomas II."
Jones and the offensive line's issues Wednesday hurt Fields and the passing game. It sounds like Jones and the offensive line are causing the Bears to have similar issues to what Aaron Rodgers and the New York Jets are experiencing during their joint practices. Jones needs to clean up his play.
2. Velus Jones Jr. played well as a wide receiver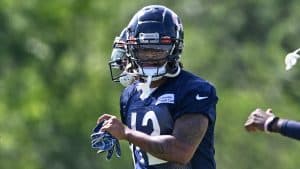 Velus Jones Jr. has been known for muffing returns during his time in Chicago. But let's not forget he's a wide receiver. That might be his best chance to make the roster.
Jones played extremely well Wednesday as a wide receiver. He caught several deep passes.
My top 5️⃣ takeaways from today's #Bears-Colts joint practice

1. Worried about Fields' short passes last week? Don't be — he completed a handful of DEEP passes

2. Velus Jones Jr. ability to track the deep ball, gain separation at the top of his route, and lay out was impressive

— Will DeWitt (@Wi11DeWitt) August 17, 2023
Justin Fields hit Velus Jones Jr. deep down the left sideline for a big gain. Fields ended up on the ground after the play. Bears and Colts ended up meeting in the middle of the field after Dayo Odeyingbo and Teven Jenkins started talking to each other.

— Nicholas Moreano (@NicholasMoreano) August 16, 2023
PJ Walker to Velus Jones on a deep bomb for a touchdown in 11 on 11s!

Great throw, great catch.

— CHGO Bears (@CHGO_Bears) August 16, 2023
3. The Chicago Bears' defense gave Anthony Richardson fits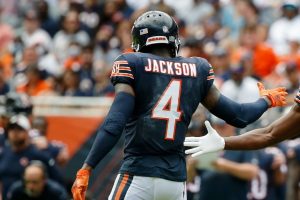 Overall, the Bears had a positive showing against rookie quarterback Anthony Richardson. The Bears recorded turnovers, and stopped the Colts' starters during their two-minute drill. Stephen Holder with The Athletic Tweeted Wednesday night that Richardson was having his hardest day of camp.
He deleted that Tweet but explained why some of Richardson's completions against the Bears' defense Wednesday might not have stood in a regular season game.
Eddie Jackson picks off Anthony Richardson deep in 7 on 7. QB was looking for Josh Downs. Overthrown. #Bears

— Zack Pearson (@Zack_Pearson) August 16, 2023
In positive news, the Bears' first team defense stopped Anthony Richardson in the two minute drill. Eddie Jackson with a PBU and Justin Jones with a pressure to force an incompletion on third down. Richardson's pass on fourth down was wide of Pharaoh Brown

— Josh Schrock (@Schrock_And_Awe) August 17, 2023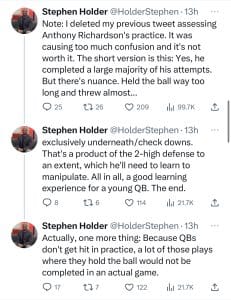 For More Chicago Sports:
Follow me on Twitter at @JordanSig, and follow us @ChiCitySports23. You can also reach out to Jordan Sigler via email at jordanmsigler@gmail.com. To read more of our articles and keep up to date on the latest in ALL of Chicago sports, click here! Chicago Bears, Chicago Bulls, Chicago Cubs, Chicago White Sox, Chicago Blackhawks.
For More Great Chicago Sports Content
Follow us on Twitter at @chicitysports23 for more great content. We appreciate you taking time to read our articles. To interact more with our community and keep up to date on the latest in Chicago sports news, JOIN OUR FREE FACEBOOK GROUP by CLICKING HERE