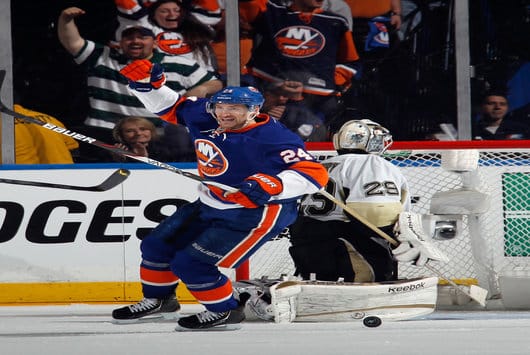 The Chicago Blackhawks are set at the defenseman and goaltender positions, but they are short a few forwards. The Blackhawks traded away Michael Frolik (Winnipeg Jets) and Dave Bolland (Toronto Maple Leafs). Meanwhile, Viktor Stalberg signed with the Nashville Predators. Also, Jamal Mayers may very well retire. So that leaves the Blackhawks with only 12 forwards signed for next season when 14 would be allowed on a 23-man roster.
But even with the 12 forwards signed, not all of them are going to play every night.  Daniel Carcillo and Brandon Bollig will most likely not be in the lineup together on a game night.  Jimmy Hayes and Jeremy Morin may very well still be in Rockford when the start of the season comes. So that would amount to only 10 forwards (nine dressed on one night) out of 14 needed for the start of next season.
This means the Blackhawks must sign four forwards before the season starts. The Blackhawks will most likely match any contract offer Markus Kruger would sign. If Kruger remains a Blackhawk, the team would have 11 forwards out of the 14 needed (10 of 12 forwards needed for a game night). With the current roster the Hawks have, they would need to add two right wingers and another able body (preferably a combo center/winger) to fill the 23-man roster. Keep in mind that the Blackhawks have only around $2.5 million of cap room available.
Here are a few unrestricted free agent right-wingers the Blackhawks should consider:
Colby Armstrong, RW- The Montreal Canadiens have parted ways with the one-time 20-goal scorer. But Armstrong, 30, has only scored 3 goals in the last 2 seasons. He would likely receive less than the $1 million the Habs gave him last season.
Brad Boyes- RW- Boyes, 31, may be the best option for the Blackhawks. He scored 10 goals in the shortened season last year. He also has had experience at the center position. Most importantly, if he is willing to sign with the Blackhawks without a raise—$1 million contract from last year—he may be seriously courted by the team.
Matt Halischuk, RW- He is one year removed from a 28-point season. Halischuk, 25, learned to be defensive-minded with the New Jersey Devils and Nashville Predators. The Preds paid him a cap-friendly $825,000 last season. A contract the Blackhawks would be happy to take on.
Milan Hejduk, RW- NHL.com reports that this once 50-goal scorer likely wants to move on from the Colorado Avalanche and is still looking to play in the NHL. Hejduk, 37, made $2.6 million last season and he would have to take a severe pay reduction for the Blackhawks to consider signing him. The one-time cup winner may want to win another before he retires, and may take a pay cut.
Chuck Kobasew, RW- Another avalanche winger who has three 20-plus goal seasons with the Boston Bruins and the Calgary Flames. Kobasew, 31, has seen his goal production decrease over the last several seasons and may be worth a little less than the $1.25 million he made last season.
Here are a few low-priced centers the Hawks should consider:
Jeff Halpern, C- Halpern, 37, has only played 46 games in the last 2 seasons, while tallying up only 3 points in that time span.  An able veteran who may be worth the $700,000 he received last year.
Scott Gomez, C- Gomez, 33, has tallied 10 points or more each season during his 13 year career. He may provide an offensive boost for a low price (received $700,000 last year).
Jerred Smithson, C- Smithson, 34, has never had more than nine goals or nine assists in a single season, but his $800,000 contract from last season is a cheap price for a veteran center.
These are also restricted free agents available, but the Blackhawks do not have the cap space available to outbid an RFA's current team. It will be interesting to see what the Blackhawks do over the next few weeks.