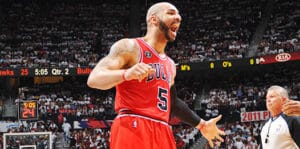 Derrick Rose said before Game 6 of their Semi-finals series with the Atlanta Hawks that this was the most important game of all of their lives.
The game ended in the third road blow-out of the Hawks by the Bulls this season; 93-73 in Chicago's favor.
From the very onset of the game, the Chicago Bulls came out and played like it.  Rose was the facilitator for his teammates and the team displayed great ball movement.  Carlos Boozer came out with the strong start — hitting his first four field goal attempts.  The Bulls' power forward looked strong despite the turf toe injury.
It was a well-balanced offensive attack for the visiting Bulls.  The team came out firing early on and never relented — finishing  with 53.2% shooting for the game.
Omer Asik, Taj Gibson, C.J. Watson, Ronnie Brewer and the bench mob came in and held the Hawks off offensively as they extended their lead.
Boozer finished with 23 points, 10 rebounds and five assists.
Rose with 19 points and 12 assists on 8-of-14 shooting.
The Bulls will move on to the NBA Eastern Conference Finals to face the team favorited by many to win the title — the Miami Heat.
Derrick Rose and the Bulls played three competitive games versus the Heat during the 2010-11 regular season.
The Bulls won all three of those games.
Dwyane Wade, LeBron James and Miami just celebrated a series victory against the Boston Celtics.  Rose and company shared some high fives but it was much less festive than it was down nearby South Beach, Florida.
Game 1 will be played in the United Center in Chicago on Sunday evening.
This is the Bulls' first trip to the NBA Eastern Conference Finals since the 1997-98 final sixth championship season, when they defeated the Indiana Pacers in seven games.
For More Great Chicago Sports Content
Follow us on Twitter at @chicitysports23 for more great content. We appreciate you taking time to read our articles. To interact more with our community and keep up to date on the latest in Chicago sports news, JOIN OUR FREE FACEBOOK GROUP by CLICKING HERE