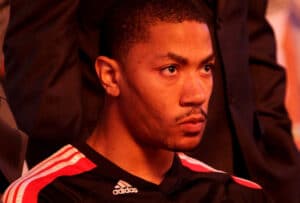 The answer to the question of how the current roster Chicago Bulls can make Derrick Rose's life easier is simple.
Shoot three-pointers.
Of course, it is not that simple but one of the primary ways the Bulls can utilize Rose at his full effectiveness is proper floor spacing and forcing defenses to guard the perimeter.
Rose is arguably one of the NBA's fastest players as well as one of the quickest dribblers. With ample amounts of space, nobody can keep up with Rose.
Despite mention by Rose himself that he has worked on his post-up game this offseason, Rose is still an on-the-ball operator generating nearly all of his and the Bulls offense from dribble-drive penetration.
As space comes, Rose goes and as Rose goes, so goes the Chicago Bulls.
No doubt, one of the easiest ways to create floor spacing in the NBA is make the three-point shot a legitimate threat.
In 2009-10, the Chicago Bulls took the league's highest number of 16-23 foot jump shots, statistically the least efficient shot in the NBA. Moreover, this length shot does a bad job of creating space on the perimeter and makes it easier for opposing defenses to double-team Rose.
That Vinny Del Negro-led Bulls team shot plenty of long to mid-range jumpers but failed to shoot threes, attempting the second least amount in the league.
Worse yet, their eFG% from the three-point line was a measly 49.5 percent, 28th in the NBA.
Rose finished the 09-10 campaign with 20.8 points per game and 18.6 PER. Still great numbers for the second-year Rose but clearly not the success he would find in 10-11.
Last season, the Bulls jumped to 17th in the league in three-point attempts and a 54.2 percent eFG%, an almost five percent increase.
Giving Rose additional space also helped the Chicago-native get to the free-throw line a career-high 6.9 times per game.
Rose himself also utilized the new-found space to add another dimension to his game and increased his own three-point attempts from 0.8 to 4.8.
The addition of Richard Hamilton to the Bulls offense and Ronnie Brewer's increase in attempts should allow the Bulls to continue to create floor spacing for Rose.
Ideally, the Bulls could find another player to take the pressure of Rose and command a double-team but in the current roster structure, the Bulls offense is going to live and die with the ball in Rose's hands. The best way to keep this viable is to keep shooting threes.
With enough floor spacing there's nobody that can stop Rose. If the three-point remains a legit threat for the entire season and through the playoffs, Rose may repeat as NBA MVP and better yet, we may be talking about a championship in Chicago.
For More Great Chicago Sports Content
Follow us on Twitter at @chicitysports23 for more great content. We appreciate you taking time to read our articles. To interact more with our community and keep up to date on the latest in Chicago sports news, JOIN OUR FREE FACEBOOK GROUP by CLICKING HERE