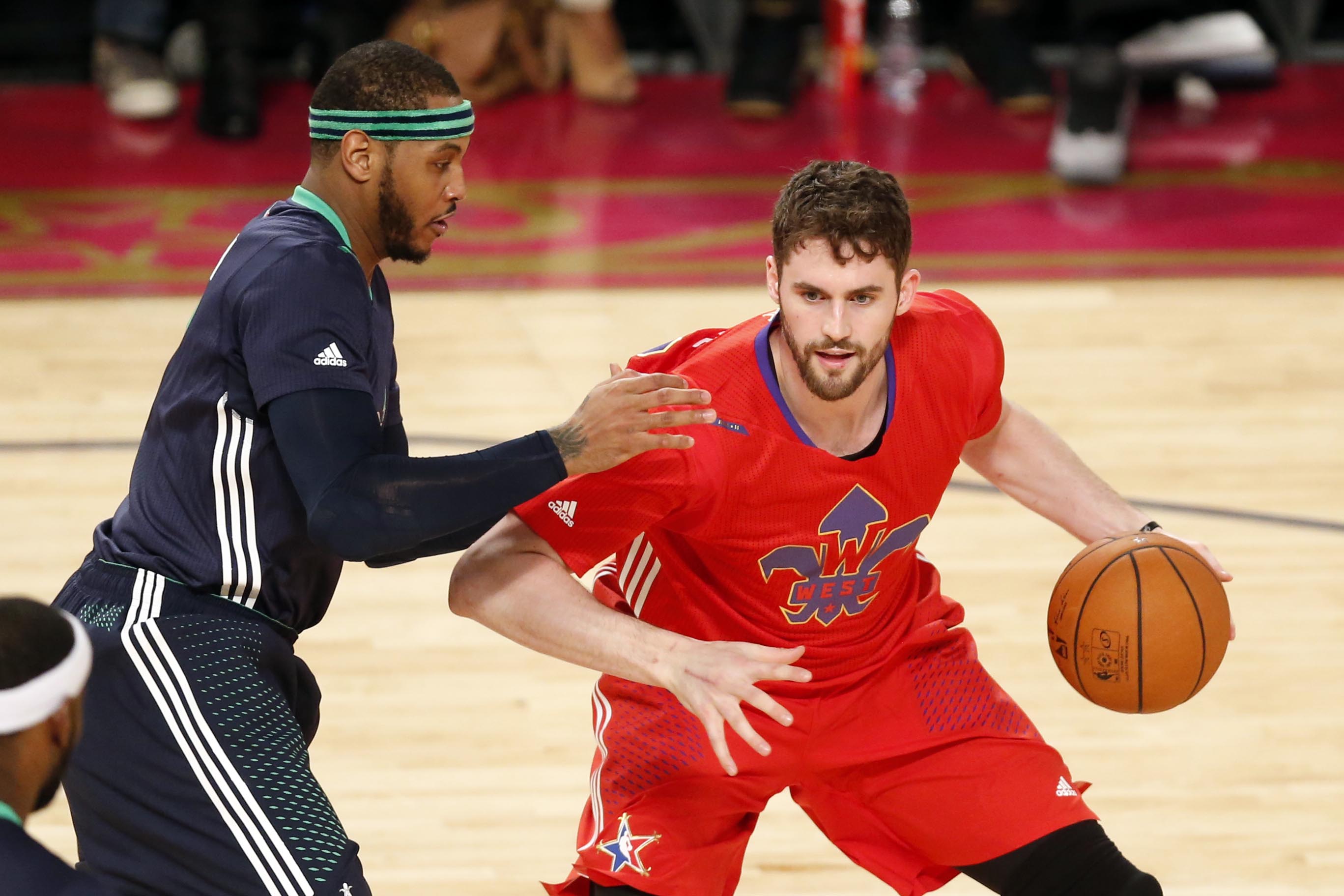 This is Part 1 of a Three-Part Series outlining potential targets for the Chicago Bulls this off-season
Part 1: Carmelo Anthony and Kevin Love
The Chicago Bulls off-season started early this year. The Bulls scored 69 POINTS in an ELIMINATION GAME against the WASHINGTON WIZARDS in CHICAGO. Not that I really needed the caps for emphasis, but there couldn't be a more discouraging way for a season to end than by losing to the Wizards, not the Heat, not the Pacers, not the Nets—the Wizards.  In five games no less. In five games, the Defensive Player of the Year and the savior of Chicago's season Joakim Noah got beat up, warn down, blown by, dunked on, smothered, and any other verbs you can think of until his DPOY award seemed like a distant memory. Noah turned it over 3.8 times per game and accomplished the unbelievable task of making Nene look like LaMarcus Aldridge. Noah of course isn't the only one at fault. Coach Tom Thibodeau coached himself a bad series, plain and simple. Thibs was stubborn with his rotations and continued to pour defensive players onto the court even though no one knew how to score. Watching the Bulls on offense is like watching Anchorman 2—it's almost so bad it's a site to behold.
For the love of humanity, that 2013-2014 Chicago Bulls is now a thing of the past. We can finally look towards the off-season, where the Bulls will have plenty of options at their disposal once again. Before I delve into this, I should reveal a bad omen I encountered.
While I was at a flea market on Sunday, I ran into Gar Forman. Yes, Bulls GM Gar Forman. Yes, at a flea market, where, you know, you can buy an Andre the Giant mug or a signed picture of Eddy Curry for about two bucks. So what does seeing Gar Forman, the Bulls GM, at a flea market have to do with the Bulls off-season? EVERYTHING.
Even though the Bulls will have money and a ton of directions to throw that money in, you always have to remember this is the Chicago Bulls. The same team that thought it was okay to play Tony Snell 16 minutes a game and start Kirk Hinrich at point guard for two years instead of going out and getting players that are any good at any aspect of basketball.  Remember Forman and Jerry Reinsdorf will make every decision with money on their mind and going over the luxury tax is always, always a concern for the Chicago Cheapskates.
Here's to hoping 2015 will bring something different. Let's take a brief look at some of the Bulls options this off-season.
Plan 1A: Carmelo Anthony
I know, I know, Anthony played for a Knicks team that won only 37 games in possibly the worst conference in NBA history. Also realize the Knicks would've won ten games if it wasn't for 'Melo. Of course, Anthony doesn't come without concerns. He turns 30 in nine days, he still doesn't play defense, he's been known to pout and complain when he doesn't get his way, and he still hasn't come within striking range of an NBA title. Regardless, he is an absolute beast on offense, averaging 27.4 points per game last season. He had his best year from behind the arc, hitting 167 three's at a 40% clip, both career highs. Carmelo also grabbed a career high 8.1 boards per game. Melo knows how to score from behind the arc, inside the paint, with his back to the basket, and best of all, he doesn't need anyone to set up his offense for him. The Bulls anticipate a healthy Derrick Rose, but even if he isn't healthy, Anthony is capable of bringing the ball up himself and getting in rhythm without the help of a point guard. Anthony would be a clear fit at SF and would log plenty of fits at PF as well. In essence, Anthony is exactly what the Bulls have been missing since, like, Michael Jordan.
Anthony is a free agent, but affording him might be an issue. The Bulls will certainly have to amnesty or trade Carlos "Hodor" Boozer and they might also have to clear some extra space by trading Mike Dunleavy and/or Taj Gibson. No matter who is cut to free space, a core of Rose, Melo, and Noah would give the Heat a run for their money and immediately contend for a championship.
Plan 1B: Kevin Love
Kevin Love is a little less simple than Melo since he isn't a free agent. Word is he wants out and he wants out now—preferably before the NBA draft on June 26th. Love has faced a ton of scrutiny since news surfaced that he wants out; He hasn't reached the NBA playoffs, he's a sore loser, he has a history of injuries.  With those negatives aside… in short—I love Kevin Love.
The other day, one of my friends (a Kings fan, go figure) told me that Love wasn't a top 5 player. With the Warriors and Bulls rumored as potential trade candidates I might have a little bit of a bias in defending him, but the numbers don't lie. Here are a few stats I reeled off to him:
– There are only five players who averaged 20 points and ten rebounds per game last season: Anthony Davis, Al Jefferson, LaMarcus Aldridge, DeMarcus Cousins, and Kevin Love.
– Of those players, Love is the only player who can shoot it beyond the arc, making 190 three's shooting 37.6%.
– His 26.97 PER was third in the league, only behind LeBron James and Kevin Durant.
– He averaged a career-high 4.4 assists per game to lead all big men except Noah.
– He's 25.
– Is he injury prone? Yes, but he did play 77 games for the first time since his rookie season, which is a good sign.
– He ranked 31st in points per play offensively according to Synergy, and a respectable 112th defensively. There's about 400 players in the league so that is well above average.
– He was also 44th in the post defensively, probably the most important aspect of defense for a big man.
– His worst defensive situation is spot-up, where he still ranked 151st according to Synergy. Still, he clearly won't have much impact as a help defender.
– Top 50 in P&R, post-ups, transition, cuts, offensive rebounds, hand-offs and off-screens according to Synergy.
– 14 opponents PER defensively at PF according to 82games.
– Played nearly as much center as PF in the 2011-2012 season. The 2013-2014 season was the first season where he was primarily a power forward and it allowed him the ability to step out more for three's and hold his own defensively.
All of those above stats tell me that Love is clearly a top 5 talent offensively, and defensively he is average at worst. He isn't a winner but joining an established, winning culture like in Golden State or Chicago wouldn't really require him to lead a team on his own anyways. He does everything you want out of a big man while also adding a passing and shooting game that is rarely seen from a guy his size. My biggest concern with him is his health but I'm willing to take a chance on him, especially since some of his injuries were freak accidents like breaking his hand doing knuckle push-ups.
Also, playoff experience is overrated. Portland's Damian Lillard averaged 23, 5, and 6.5 for the Blazers in his first postseason ever. Lillard hit a game winner in the first round to sink the Houston Rockets and advance the Blazers for the first time in 14 years. Houston had superstars James Harden and Dwight Howard, both with NBA finals experience, but both players still failed to advance their team.
With my endorsement for Love now off my chest, let's talk about how the Bulls would get Love, which is a little murkier. Any deal for Love would almost certainly have to include both the 16th and 19th picks, as well as the rights to Euroleague standout Nikola Mirotic. Mirotic plays in Spain and might also play for the Spanish national team in the World Cup this summer, so he'll have an immediate connection with Wolves point guard Ricky Rubio. In addition to those three assets, the Bulls can trade Boozer, Gibson, and Dunleavy for Love, and basically absorb the contracts of Chase Budinger and Luc Richard Mbah a Moute. The Bulls would not be able to offer up their picks or extend Kevin Love until after the draft, but ideally this trade could be worked out under the table before the draft. Also, if the Bulls decide to part ways with Thibs (which is unlikely) as rumored, they can collect another future first round pick to spice up the pot.
It is important to remember that the Bulls had a similar opportunity in the offseason of 2010. Chicago had the prospects of signing LeBron James, Dwyane Wade or Chris Bosh and settled with Hodor Boozer and a collection of bench mobsters. Something similar to the latter might be possible once again this summer. In Part 2, I will outline Chicago's options if they strike out on the Melo and Love sweepstakes.
Part 2 will cover potential free agent targets
Stats Provided By: mysynergysports.com and 82games.com
For More Great Chicago Sports Content
Follow us on Twitter at @chicitysports23 for more great content. We appreciate you taking time to read our articles. To interact more with our community and keep up to date on the latest in Chicago sports news, JOIN OUR FREE FACEBOOK GROUP by CLICKING HERE