With the clock passing 12:01 AM ET, NBA Free Agency has officially begun. The Chicago Bulls have no salary cap room to sign players with, only the luxury-tax version of the Mid-Level Exception, which is set at approximately $3 million. That being said, the chances of Chicago using the exception still aren't high, and the roster will likely be filled out using minimum salaried players.
Here are six value free agents who may be able to provide some depth for the Chicago Bulls this upcoming season.
Leandro Barbosa –
6'3″ 194 lbs
41 G, 12.5 MPG, 5.2 PPG, 1.4 APG, 43.0% FG, 38.3% 3P
-Leandro Barbosa is a combo guard who last played for the Boston Celtics. He gained fame as a speedy scorer for the Phoenix Suns, but has waned in the seasons since. Barbosa could come into Chicago and potentially be a scorer off the bench. His three point shooting could also potentially be an asset on a team that struggled so mightily in that category. Barbosa tore his ACL during the 2013 season, and may not be back until December or so. A minimum contract could be an investment for the playoffs.
Brandan Wright
6'10" 210 lbs
64 G, 18.0 MPG, 8.5 PPG, 4.1 RPG, 59.7% FG, 1.2 BPG
-Brandan Wright is a power forward who last played for the Dallas Mavericks. As you may be able to tell from the physicals, Wright is tall, but incredibly skinny. Wright showed some ability to use his athleticism and length to overcome his strength limitations, and has become an energy player on both sides of the court. His play for the Mavs may have earned him a contract above the minimum.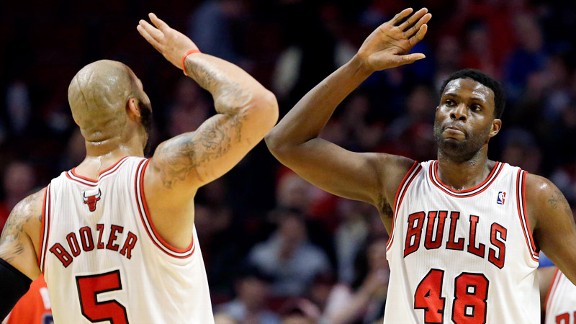 Nazr Mohammed
6'10" 250 lbs
63 G, 11.0 MPG, 2.6 PPG, 3.1 RPG, 0.5 BPG
-Nazr Mohammed of course played for the Bulls this past season as their fourth big man. In limited stretches, Nazr worked as an enforcer in the Thibodeau defense, and played a little bit of offense at times as well. Mohammed made comments last summer that his " goal was to finish up [in Chicago]…That's always the goal." Taking into account the fact that he will only cost the minimum, and that he knows the system, it's almost assured that Nazr will be back for another go-round.
Antawn Jamison
6'9″ 235 lbs
76 G, 21.5 MPG, 9.4 PPG, 4.8 RPG, 46.4% FG, 36.1% 3P
-Lost in the nightmare frontcourt of the Los Angeles Lakers last season was the fact that Antawn Jamison was actually having a nice little season. Jamison only missed ten games despite being 36 years old during the season. He also posted his highest field percentage since 2009 and his highest three point percentage since 2007. Jamison signed for the minimum to chase a title in 2013, so he might be willing to do that in 2014. Chicago could use his shooting.
DeJuan Blair
6'7″ 270 lbs
61 G, 14.0 MPG, 5.4 PPG, 3.8 RPG, 52.4% FG
-Back in the 2009 NBA Draft, Bulls fans were clamoring for DeJuan Blair over their actual draft pick, Taj Gibson. Blair was picked up by the San Antonio Spurs, and has proven to be a good player despite his height limitations. While undersized, Blair is strong enough to make up for many of his deficiencies. While Blair may not be the type of defender that Chicago values, he can provide effective minutes at the power forward position if necessary.
Ryan Hollins
7'0″ 240 lbs
60 G, 11.1 MPG, 3.4 PPG, 2.3 RPG, 61.4% FG, 0.6 BPG
-Ryan Hollins is an athletic seven-footer who last played for the Los Angeles Clippers. Hollins is a low skill player, but he is a center who makes his presence known in limited stretches. He can be a fourth big man and straight up big body to spell Joakim Noah for a few minutes a game. There is no question that he has the physical skills to play in Tom Thibodeau's defense.
For More Great Chicago Sports Content
Follow us on Twitter at @chicitysports23 for more great content. We appreciate you taking time to read our articles. To interact more with our community and keep up to date on the latest in Chicago sports news, JOIN OUR FREE FACEBOOK GROUP by CLICKING HERE