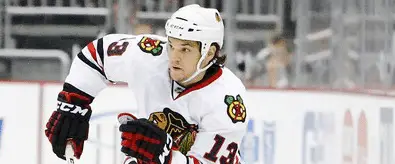 Everybody knows those players, the ones' that we hate when they are on the opposing team, but when they sign with our favorite team they instantly become a fan favorite. Ladies and Gentlemen let me introduce you to a picture perfect example of this, Daniel Carcillo.
In the 2010 Stanley Cup Finals, Carcillo was probably the most criticized Flyer (outside of Chris Pronger), and he hardly made any impact in that series. So why was he the most hated Flyer on the ice? Simply put, he's annoying. Carcillo is the type of player who constantly does things that make you yell at your TV and ask the ref's where the whistle was. You will never really see him light up the stat sheet or see his name on Sportscenter, but you can guarantee that Carcillo managed to agitate at least one player on the ice and one fan in the arena or at home.
Blackhawk fans do you remember how Dave Bolland got his nickname "The Rat"? For those who have forgotten let me remind you, that nickname came about when Bolland constantly harassed the Sedin twins and Joe Thornton in the playoffs. Now imagine having a player who's sole role is to do that night in and night out. That's what Dan Carcillo brings to the team.
If there were fans still on the fence when it comes to Carcillo, look no further then his latest remarks about Vancouver Canuck players Max Lapierre and Alex Burrows. In an interview on "The Carmen, Jurko, and Harry Show" on ESPN 100, Carcillo said "I don't want to name names right now, but there is one guy on Vancouver I'd like to take a big piece of, and I think everybody knows who I'm talking about." Yesterday he would go on to say "Throw [Alex] Burrows in there, too."
Welcome to the Blackhawks family, Mr.Carcillo.