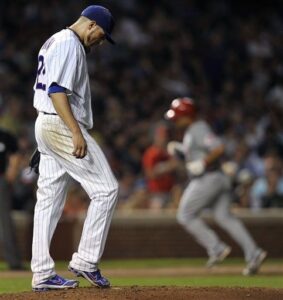 (AP Photo/Jim Prisching)
On a hitters night at Wrigley the Reds hitter's ruffed up Matt Garza. The Reds hitters jumped on Garza early. In the top of the second Todd Frazier hit a solo shot to give the Reds a 1-0 lead. That was just the beginning of Garza's struggles. After the pitcher Tony Cingrani got on to start the top of the third Joey Votto came to bat with 2 outs. Votto drilled a two run homer to left field to give the Reds a 3-0 lead.
In the bottom of the fourth the Cubs had Ransom on third , and Rizzo on first with no one out. However all the Cubs could manage was a Soriano sac fly which made it 3-1 Reds.
After solid fourth and fifth innings by Garza the wheels came off in the sixth. After Votto lead off the inning with a single and a two base error by Scott Hairston, and Brandon Phillips walked  Jay Bruce doubled them both in to give the Reds a 5-1 lead. After Garza hit Todd Frazier it brought up Xavier Paul. Paul deposited a three run shot to right to give the Reds a 8-1 lead, and that is were Garza was pulled for Hector Rondon. At that point the game had gotten away from the Cubs.
Garza left way to many balls up in the zone and on a night like tonight you cant do that and expect to win especially against a team like the Reds. The Cubs got their second run on a solo shot by Cody Ransom in the bottom of the sixth. The Reds tacked on three more runs off of the Cubs pen and the score finished at 12-2.
The Cubs will look to get back on track tomorrow against Mike Leake(5-3, 2.93 ERA). The North Siders will send Travis Wood (5-4, 2.65 ERA) to the mound. First pitch is set for 1:20 pm central time